North Korea still open to talks with US as Donald Trump threatens Kim Jong-un after scrapping summit

The Telegraph
25-05-2018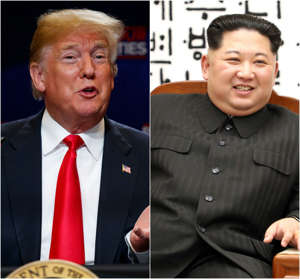 North Korea said on Friday it was still open to talks with the US despite Donald Trump's threat of military action after cancelling their June 12 summit in Singapore. 
Pyongyang described the US president's decision to pull the plug on the highly anticipated meeting as "extremely regrettable".
"The abrupt announcement of the cancellation of the meeting is unexpected for us and we cannot but find it extremely regrettable," Kim Kye Gwan, North Korea's First Vice Foreign Minister, said in a statement carried by the state-run KCNA news agency.
Related: President Trump calls off North Korea summit in letter to Kim Jong Un (Provided by CNBC)
"We again state to the US our willingness to sit face-to-face at any time in any form to resolve the problem," Kim added.
The US president said on Thursday the American military was "ready if necessary" to react with its allies should North Korea take any "foolish or reckless acts".
Earlier Mr Trump had formally scrapped the summit through a letter released by the White House. 
"Sadly, based on the tremendous anger and open hostility displayed in your most recent statement, I feel it is inappropriate, at this time, to have this long-planned meeting."
Mr Trump said "this missed opportunity is a truly sad moment in history" and appeared open to the talks being rearranged, saying: "If you change your mind having to do with this most important summit, please do not hesitate to call me or write."
Sadly, I was forced to cancel the Summit Meeting in Singapore with Kim Jong Un. pic.twitter.com/rLwXxBxFKx

— Donald J. Trump (@realDonaldTrump) May 24, 2018
But the US president also issued a clear threat: "You talk about your nuclear capabilities, but ours are so massive and powerful that I pray to God they will never have to be used."
Mr Trump later said he had talked to James Mattis, the US defence secretary, and the US joint chiefs of staff, adding that "our military… is ready if necessary". 
The latest twist in the diplomatic dance on the orean peninsula came on the same day North Korea followed through on a pledge to blow up tunnels at its nuclear test site.
North Korea has conducted all six of its nuclear tests at the Punggye-ri site, which consists of tunnels dug beneath Mount Mantap in the northeast of the country.
A small group of international media selected by North Korea witnessed the demolition, which Pyongyang says is proof of its commitment to end nuclear testing.
The destruction of the site began at about 11 a.m. with the blowing up and collapsing of a tunnel and an observation post.
North Korea's state-run news agency KCNA reported there was no leak of radioactive materials or any adverse impact on the surrounding ecological environment.
"Dismantling the nuclear test ground was done in such a way as to make all the tunnels of the test ground collapse by explosion and completely close the tunnel entrances, and at the same time, explode some guard facilities and observation posts on the site," KCNA reported.
Related: See the secretive nuclear facility North Korea destroyed just hours before Trump canceled his upcoming Kim Jong Un meeting (Provided by: Business Insider)