North Korea to halt nuclear and missile tests and close testing site, state media says

The Washington Post
21-04-2018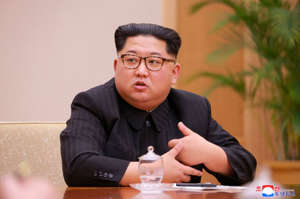 TOKYO — North Korean leader Kim Jong Un has declared he will suspend nuclear and missile tests starting Saturday, and that he will shut down the site where the previous six nuclear tests were conducted. 

The surprising announcement comes just six days before Kim is set to meet South Korean President Moon Jae-in, a precursor to a historic summit between Kim and President Trump.
Both Moon and Trump had been saying that North Korea, which last year crowed about developing a "super large heavy warhead" and the missiles to deliver it to the mainland United States, was willing to "denuclearize."
But there has been considerable skepticism that Kim, having poured so much money and effort into the program, not to mention his personal prestige, would give it up so readily.
The North's Korean Central News Agency said in a report Saturday morning that it "will stop nuclear tests and launches of intercontinental ballistic missiles" effective immediately.
In pics: Most powerful military nations of 2018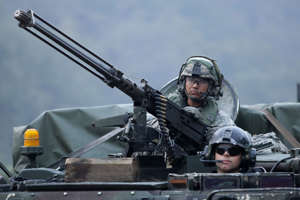 "The North will [also] shut down a nuclear test site in the country's northern side to prove the vow to suspend nuclear test," KCNA reported.
The announcement was made after a meeting of the central committee of the ruling Worker's Party of Korea, convened Friday to discuss policy issues related to "a new stage" in a "historic" period.
However, analysts noted that it made no mention of giving up its program, simply signaling a freeze.
Still, the step is part of a broader and rapidly developing effort to use diplomacy to resolve the standoff on the Korean Peninsula, following months of threats at the end of last year that stoked fears of a military conflict.

Next Friday, Kim will cross the Military Demarcation Line that has divided the peninsula since the Korean War ended in 1953, becoming the first North Korean leader to do so since the war ended. He will step into "Peace House" on the southern side of the line to meet Moon, with their encounter being broadcast live.

Moon signaled this week that everything was on the table at the meeting.
"North Korea is expressing its intention for complete denuclearization," Moon said Thursday. "And it is not making demands that the U.S. cannot accept, such as the withdrawal of the U.S. forces in Korea," he said.
The U.S. military has 28,000 troops stationed in South Korea, with backups in Japan and on Guam — the legacy of the standoff that has ensued since the Korean War ended in an armistice in 1953.
ये भी पढ़ें : आखिर उत्तर कोरिया के झुकने का सच क्या है?
This comes less than a week before Kim is due to meet with Moon in the first inter-Korean summit in 11 years. Moon has said that Kim is willing to discuss denuclearization and that he will not insist on American troops being withdrawn from South Korea as part of any deal.

Trump also this week voiced optimism about his summit with Kim, although he said he would walk away from the talks if they were not looking constructive.
"I think we're going to be successful," Trump said. "But for any reason if I think we're not, we end."
As the presidents of South Korea and the United States prepare for summits with the previously reclusive Kim Jong Un, there has been lots of conjecture about what exactly the North Korean leader is prepared to discuss. 

But North Korea had said very little about all this — and that has plenty of analysts worried that expectations for this summit are too high.
The fact that North Korea has now signaled it is prepared to at least freeze its program is extremely significant, said Daryl G. Kimball, executive director of the Arms Control Association in Washington.
"North Korea's pledge to close down its nuclear weapons testing site is a very significant pledge toward denuclearization," Kimball said. "The U.S. and others should solidify this by securing North Korean signature and ratification of the 1996 Comprehensive Nuclear Test Ban Treaty, along with confidence building visit by the Comprehensive Test Ban Organization."