One policeman and one attacker killed in Champs-Elysées shooting in Paris

فرانس 24
20-04-2017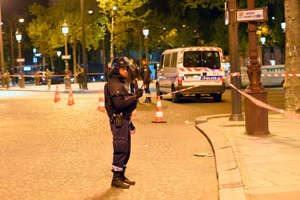 © Getty A gunman killed one police officer and wounded two others before being killed himself in an attack on the Champs-Elysées in the heart of the French capital Thursday evening. The Islamic State group has claimed responsibility.
The officer who was killed in the attack was shot while in a police car waiting at a red light by an attacker driving by, a police union representative said on Twitter.
Paris police spokeswoman Johanna Primevert told AP that the attacker targeted police guarding the area near the Franklin Roosevelt metro station at the center of the avenue, shortly after 9pm Paris time.
Paris attacker previously flagged as extremist
(Video provided by Fox News)
A police source says that searches are taking place in an area east of Paris at the home of the assailant killed in the attack.
Anti-terror prosecutors investigating
A French Interior Ministry spokesman said they could not exclude the possibility that there was more than one attacker. It was too early, he said, to determine the motive behind the attack, however, French anti-terror prosecutors are investigating the shooting.
The ministry added that a search for explosives is now underway.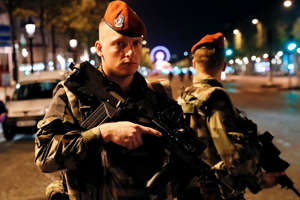 © Getty In a televised address following the attack, France's President François Hollande said that all potential investigative leads pointed to the Champs Elysées shooting as 'terrorist in nature'.
He said an emergency meeting of security, defence and intelligence top officials would be held on Friday and added that security forces would be vigilant during the forthcoming presidential election.
The Islamic State group claimed responsibility shortly after the attack, according to the Amaq news agency who are closely affiliated with the terrorist group.
Paris police had earlier warned people to avoid the area.
Eyewitness: I heard six gunshots
(Video provided by Sky News)
A helicopter was also seen flying low over central Paris, said a Reuters reporter, apparently as part of a follow-up police operation.
France already tense
France remains tense after the government declared a state of emergency following a series of terrorist attacks, including the November 2015 attacks, which targeted the Bataclan concert hall and Stade de France sports arena, as well as café and bar terraces in the capital.
The emergency decree has been extended by several parliamentary votes and remains in force.
The Champs-Elysée is one of the world's most prestigious boulevards and is popular with shoppers and tourists.