Outrage in US as hundreds of children are kept in cages by border control in south Texas

Evening Standard
18-06-2018
© Provided by Independent Print Limited Hundreds of children are being kept in cages by US border patrol in south Texas, with First Lady Melania Trump among those to speak out amid fierce criticism.
The US Border Patrol allowed reporters to briefly visit a large warehouse on Sunday where it holds families arrested at the southern US border.
In pictures: Families separated at the US border (Photos)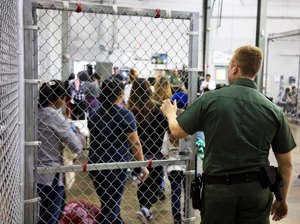 One of the metal fenced cages had 20 children inside, with bottles of water, bags of chips and large foil sheets intended to be used as blankets scattered about.
The Border Patrol said close to 200 people inside the facility were minors unaccompanied by a parent. Another 500 were "family units", parents and children.

It comes amid growing controversy over the Trump administration's "zero tolerance" immigration policy, which is leading to a spike in children being separated from their families.

© Provided by Independent Print Limited melania-0.jpg In recent weeks, stories have spread of children being torn from their parents' arms, and parents not being able to find where their kids have gone.
Mrs Trump made a rare statement on the issue on Sunday, saying she "hates" to see families separated at the border and hopes "both sides of the aisle" can reform the nation's immigration laws.
© Provided by Independent Print Limited texasbordrpatrol1806k.jpg Stephanie Grisham, a spokeswoman for Mrs Trump, said: "She believes we need to be a country that follows all laws, but also a country that governs with heart."
She added that Mrs Trump hopes both sides "can finally come together to achieve successful immigration reform."
President Trump said on Friday, "I hate the children being taken away," but has also falsely blamed Democrats for a law requiring it.
© Provided by Independent Print Limited texasbordrpatrol1806d.jpg Following the introduction of the "no tolerance" policy government statistics indicate that nearly 2,000 children were separated from their families over a six-week period in April and May.
Former first lady, Laura Bush, has also joined the debate, calling the separation policy "cruel" and "immoral" and said "it breaks my heart."
Video: Melania Trump Makes Rare Political Plea On Family Separation At Borders As Protests Grow (Newsweek)
In a guest column for the Washington Post, she compared the separation of the children to the internment camps for Japanese-Americans in World War II.
The policy directs Homeland Security officials to refer all cases of illegal entry into the United States for prosecution.
Many adults who crossed the border without legal permission could be charged with illegal entry and placed in jail, away from their children. Others, including church groups and human rights advocates have sharply criticised the policy, calling it inhumane.
"Those kids inside who have been separated from their parents are already being traumatised," said Democratic Sen. Jeff Merkley of Oregon, who was denied entry earlier this month to children's shelter. "It doesn't matter whether the floor is swept and the bedsheets tucked in tight."
In Texas' Rio Grande Valley, the busiest corridor for people trying to enter the US, Border Patrol officials argue that they have to crack down on migrants and separate adults from children as a deterrent to others.
"When you exempt a group of people from the law... that creates a draw," said Manuel Padilla, the Border Patrol's chief agent here. "That creates the trends right here."