Senior UN gender and youth official accused of sexual misconduct

The Guardian
6 days ago
A senior UN official tasked with promoting gender equality and youth partnerships is under investigation for sexual misconduct.
Ravi Karkara, senior adviser to the former deputy executive director of UN Women, Lakshmi Puri, remains suspended on full pay pending an internal UN investigation, which has been ongoing for more than one year.
At least eight men have accused Karkara of sexual harassment, according to claims made in the US publication Newsweek.
Sources who worked closely with Karkara have alleged to the Guardian that he abused his position of power to take advantage of young people who feared speaking out against the honour of an organisation they aspired to be a part of.
The reports will come as a further blow to the UN, which has been beset with sexual harassment claims and alleged offences from former employees, ranging from verbal abuse to rape.
The allegations against Karkara made to the Guardian range from making obscene gestures in the workplace to sending links to pornography. He has also been accused of sending messages inviting young men to m********e, or asking them questions of a sexual nature.
Some of the youths claimed Karkara intimidated them by monitoring them on social media, demanding credit, gratitude and retweets.
In Pics: 10 most dangerous countries to be a woman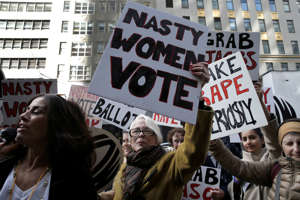 One alleged victim, 25-year-old Steve Lee, told Newsweek that on 1 December 2016 Karkara grabbed his genitals through his trousers while the pair were alone in a hotel room.
Lee, who is said to have first met Karkara at the age of 16, while the senior diplomat was working with the UN children's agency, Unicef, first opened up about the abuse to Kerry Gibson, who had been working alongside UN Women and had made a formal complaint about Karkara's professional conduct to his senior managers.
Gibson, the president of an engineering company based in Vancouver, said Karkara first contacted her about her philanthropic work in January 2016 and was seeking to forge relationships with political leaders in Canada.
Gibson, a champion of UN Women's planet 50-50 drive for gender equality, was invited to speak at events in New York and staged a conference in Canada where Karkara and Puri were given a platform to meet key political players and NGOs.
But Gibson's relations with Karkara later turned sour and she wrote to the executive director of UN Women, Phumzile Mlambo-Ngcuka, to complain Karkara was abusing his position of influence. She claims he was later caught trying to delete the message of complaint from Mlambo-Ngcuka's computer.
"The news went viral throughout the UN and it was after that that Steve Lee, who happened to be in Vancouver, got in touch and told me about the sexual misconduct allegations," said Gibson.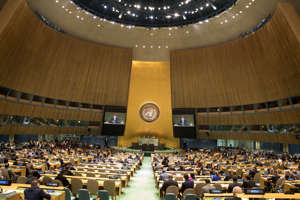 She claims Lee had "grown up" in the UN system and had been groomed by Karkara.
"He told me horrific stories about what this man had done to him, the grooming, the day-to-day innuendo, it was positively disgusting," she said.
She said Lee confided that Karkara had sent him pornography, grabbed his genitals and mocked his religious convictions.
"He showed me screenshots of messages. I was absolutely sickened that someone representing a humanitarian entity like the UN could do such harm. It was a clear misuse of power and the motivation wasn't necessarily always sexual but more about his joy in manipulating of this young man."
Gibson said Lee encouraged her to file a professional misconduct complaint to a specialist UN division to bolster his sexual misconduct complaint, which was filed around the same time, in July 2017.
"Ravi continued to work in the office for several months following the allegations, until finally his legal team asked him to go home," said Gibson.
Despite the allegations and pending investigation, Karkara gave a keynote address for the Youth Assembly, held at UN headquarters on 12 August 2017.
#Youth action is critical to social transformation-@ravikarkara on #YouthDay!
Watch @YouthAssembly closing ceremony🖥️https://t.co/PRXiYZGtmLpic.twitter.com/4KQx9Piy1E

— UN Web TV (@UNWebTV) August 12, 2017
It was not until 16 December 2017 that UN Women published a press statement revealing that it had received allegations of sexual misconduct involving a staff member.
UN Women confirmed that its investigation remains ongoing and that the subject of the inquiry is on administrative leave. However, it said it could neither confirm nor deny the suspended staff member's identity.
Mandy Sanghera, a Planet 50-50 Champion for the UN who is supporting one of the alleged victims, said it was totally unacceptable that the investigation has dragged on for 14 months.
Sanghera said she raised concerns with UN staff after hearing rumours about Karkara's misconduct, but was met with a "wall of silence".
She first met Karkara at a New York event in 2016 and found him to be charming and doing good work. But after meeting him several times, the cracks began to show.
"It was not just about sexual misconduct, he would withhold opportunities and resources from people to control them," she said. "The man is a control freak and obsessed with power.
"He thought because we are both Indian that I would have a blind loyalty to him. He would use the race card to protect himself, but for me it was always about trying to safeguard young people – it was never about race."
On his LinkedIn profile, Karkara describes himself as a trained social worker with a commitment to advancing human rights, participation, inclusion and gender equality.
His profile states he "worked for several organisations on gender mainstreaming with a specific focus on children, youth, women".
In an interview in February 2016, Karkara said: "Whatever I do has to focus on the human rights-based approach. One has to look at the root cause of the patriarchal system, the inequality and the norms, to bring about a change."
Speaking to Sayfty, a group set up to empower women and girls in India, Karkara, who has a wife and young daughter, said he was "a feminist and a humanist". .
UN Women, the UN organisation dedicated to gender equality and the empowerment of women, said in a statement released on Wednesday that the investigation into its staff member was nearing completion.
"UN Women continues to ensure that the case is investigated thoroughly and receiving the priority it deserves. We recognise the gravity with which such cases should be treated and have taken the allegations very seriously at every stage," said the statement.
"Ending all forms of sexual and gender-based violence is at the heart of UN Women's mission. As recent events have shown, the United Nations and UN Women are not immune from allegations of sexual misconduct … UN Women will continue to implement its zero-tolerance policy and will take all necessary actions that are within its purview."
Also watch: 'Rafale scandal bigger than Bofors'
(Video provided by NDTV)