'We were lifted out of our seats - we were in freefall': Qantas plane nosedives towards the ocean for 10 seconds after being caught in freak 'vortex turbulence'

Daily Mail
14-06-2018
Passengers held hands and feared they would die as their Qantas plane nosedived towards the ocean for 10 seconds. 
The Qantas plane, which left Los Angeles on Sunday and landed in Melbourne on Tuesday, was two hours into its flight path when it was rocked by 'wake turbulence' generated by another jet.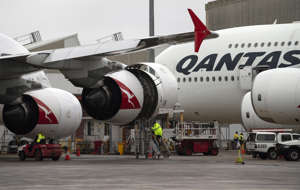 Passenger Janelle Wilson said she screamed as the plane went into a 'freefall nosedive… a direct decline towards the ocean' for about 10 seconds. 
'All of a sudden the plane went through a violent turbulence and then completely up-ended and we were nosediving,' Ms Wilson told The Australian. 
'We were all lifted from our seats immediately and we were in a freefall. It was that feeling like when you are at the top of a roller-coaster and you've just gone over the edge.
'It was an absolute sense of losing your stomach and that we were nosediving. The lady sitting next to me and I screamed and held hands and just waited but thought with absolute certainty that we were going to crash. It was terrifying.'
In a statement released on Thursday, Qantas said the incident was caused by 'unexpected turbulence'.
'There are safeguards in place to reduce the likelihood of wake turbulence encounters, but it is hard to eliminate,' Qantas said.
'Unexpected turbulence is why we always recommend passengers keep their seat belt firmly fastened at all times.'
The 'wake turbulence' was reportedly created by another jet flying ahead.  
Channel Nine personality Eddie McGuire, who was also on the flight, said there were about three Qantas planes travelling from Los Angeles to Australia at similar times. 
Describing the horror fight, McGuire said it felt as if he was on a rollercoaster.
'You thought for a second 'hello', it got your attention, 'what is going on?',' he told Triple M. 
'There was a drop, it did have a feel of just going over a rollercoaster,' he told the Today show. 
'For about 10 seconds it was an uneasy feeling, pinching forward to the left.' 
Although the turbulence was a shock, McGuire said the Qantas captain and staff were 'fantastic'. 
'The captain got on and told everyone immediately 'this is what happened. Relax. We run into these things. We are talking to Air Traffic Control and getting a different flight path,' he said.
'We should be right from here.'