Zuckerberg Agrees to EU Parliament Grilling Over Data Scandal

Bloomberg
16-05-2018
Facebook Inc. Chief Executive Officer Mark Zuckerberg has agreed to face a grilling from European Union lawmakers over how the data of as many as 2.7 million Europeans could have ended up in the hands of consulting firm Cambridge Analytica.

European Parliament President Antonio Tajani on Wednesday said Zuckerberg had accepted the EU institution's invitation to travel across the Atlantic and face lawmakers in person as soon as next week. The meeting will take place in private, the assembly's press service said.
"Our citizens deserve a full and detailed explanation," Tajani said in a statement posted on Twitter. "I welcome Mark Zuckerberg's decision to appear in person before the representatives of 500 million Europeans. It is a step in the right direction towards restoring confidence."
In pics: Coolest images of SpaceX missions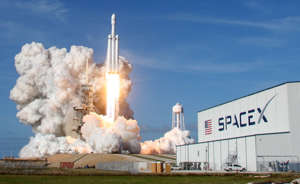 The revelations that the data of some 87 million Facebook users and their friends may have been misused by the consulting firm that worked on Donald Trump's U.S. presidential campaign, has been called a game changer in the world of data protection as regulators seek to raise awareness about how to secure information. The European Commission, the EU's executive agency, has used the scandal as an example of why its strict new privacy rules kicking in at the end of next week are justified.
Facebook, in an emailed statement, said it accepted the "proposal to meet with leaders of the European Parliament and appreciate the opportunity for dialog, to listen to their views and show the steps we are taking to better protect people's privacy."
The parliament will separately organize a hearing with Facebook representatives to examine data protection that will also look at the potential impact on the election process.
The news comes a month after the parliament invited Zuckerberg to appear before three of the assembly's committees.
--With assistance from Aoife White and Jonathan Stearns.
To contact the reporter on this story: Stephanie Bodoni in Luxembourg at sbodoni@bloomberg.net
To contact the editors responsible for this story: Anthony Aarons at aaarons@bloomberg.net, Peter Chapman
Also watch: How Queen Elizabeth is schooling prince Louis on being a Royal
(Video provided by B60)