5 players who can replace MS Dhoni for 2019 World Cup

The Financial Express
22-08-2017
Mahendra Singh Dhoni has been struggling in the shorter formats for a while but not even his 104-ball half-century against West Indies had been able to put a question mark on former Indian skipper's place in Team India. But that was only till chief selector MSK Prasad revealed this week that Dhoni is no more an automatic choice in one-day internationals and will have to keep performing to be a part of the 2019 World Cup. "We don't say it is an automatic, this thing... but we will see. We are all stakeholders. We all want the Indian team to do well. If he is delivering, why not? If he is not, we will have to look at alternatives," Prasad was quoted as saying by Reuters.
Complete coverage: Sri Lanka vs India ODI series
This was the first time when someone mentioned an 'alternative' for MS Dhoni giving fans a reality check of how fast the time flew. So, let's have a look at the players who can actually replace MS Dhoni in the shorter formats:
1. Kedar Jadhav
The man with the golden arm. Is there anything that Kedar Jadhav cannot do? The little dynamite from RCB has the ability to demolish any bowling attack, is a decent fielder and has proved to be more than a handy bowler too. What people don't know is that Jadhav used to keep wickets in domestic cricket and has done it for both Delhi Daredevils and RCB in IPL. He has cemented his place in the playing XI and Virat Kohli might surprise everyone by giving Jadhav extra duties.
Photos: Indian cricketers and their 'Unique' world records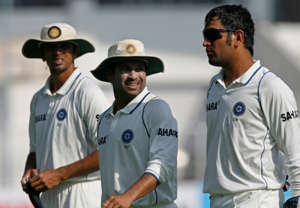 Special world records of Indian cricketers

2. Dinesh Karthik
The Tamil Nadu batsman was nowhere in the picture till a few months back but a good domestic season followed by a decent IPL earned Karthik a place in India's Champions Trophy squad. Even though he didn't get a chance in the tournament, he grabbed his opportunity in the series against West Indies last month. Karthik's batting is a big plus for him and if he can continue his form, he can be a decent replacement for Dhoni.
3. KL Rahul
As surprising as it may be for a few people, KL Rahul does have a chance of wearing gloves for India in future. He keeps wickets for RCB in IPL and has done a decent job of it. Now that Shikhar Dhawan is back in the side, selectors have made it clear that Rahul will bat at number 4 which will allow him to take the additional responsibility. After all, it won't be the first time when a Rahul from Bengaluru will keep wickets for India.
Watch: 'India need to look at all-rounder's position before WC'
(Video provided by NDTV)
4. Rishabh Pant
Coming to the younger generation, Rishabh Pant is the strongest bidder for the job. The 19-year-old from Delhi has already made his international debut as a batsman and is being seen as the future of Indian cricket. It will be interesting to see if the selectors would give him keeping duties or will continue to play Pant as a specialist batsman.
5. Sanju Samson
Samson has been there for a while and showed signs of brilliance in the Indian Premier League but somehow has failed to take that final step. So far he has proved to be a better keeper than Pant but will have to convert those starts into big scores, if he wants to replace someone like MS Dhoni.