'Ashwin very much in frame for 2019 Cricket World Cup'

Hindustan Times
23-08-2017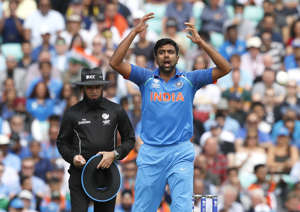 India declared the Sri Lanka One-day series was the start of a long tune-up for the 2019 World Cup, and their second string spinners shared seven wickets to rout the home team in the first match in Dambulla.
While India continued their total domination in Sri Lanka, skipper Virat Kohli spoke about plans to try out players in different roles and all eyes were on former skipper MS Dhoni.
Complete coverage: Sri Lanka vs India ODI series
However, one question is what role the team management saw for its main spinner, R Ashwin, in the build-up to the premier tournament.
The 2019 World Cup will be played in England and Wales, where seamers would fancy their chances more. Though the 2013 and 2017 Champions Trophy editions saw good batting surfaces, it still left many wondering where India's premier bowler fitted in.
The national selectors had not picked Ashwin and Ravindra Jadeja, who had together claimed 30 wickets in the 3-0 Test series sweep ahead of the ODI series --four others shared 25 scalps. Ashwin packed his bags to play in the English County, and get used to conditions as India are due to play a Test series there next year.
Photos: Most controversial statements by cricketers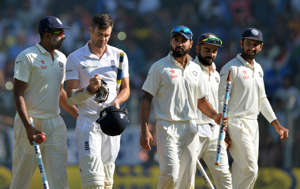 India bowling coach Bharat Arun, however, said Ashwin was very much part of the long-term plans as India prepare for the event. This, despite Ashwin making only sporadic appearances in the ODI squad.
It will be a major move if the Indian think-tank is looking beyond the spinner, but Ashwin played only three matches in the ICC Champions Trophy, and took just one wicket against South Africa. He played in the defeat against Pakistan in the final, but returned wicketless giving away 70 runs.
Arun though chose to look at Ashwin's last ODI game - 3/28 in the West Indies where he played in the first three matches.
Watch: 'India need to look at all-rounder's position before WC'
(Video provided by NDTV)
"To be honest, this is a question you should be asking the selector," he said, asked about Ashwin's infrequent ODIs.
"As a bowling coach, he is a talented bowler. Even if you look at the last one-day which he played in the West Indies, he got 3/25. Ashwin is skillful. That's it, I've answered your question."
But what about Ashwin not regularly featuring in ODIs?
"I don't want to see what has happened so far. What I would like to see is yes, Ashwin is also part of the team we are looking at. We are also looking at giving opportunities to other bowlers. We have a long-term plan in place, we will work accordingly."
Ashwin's record away from the sub-continent has not been great. From the team's point of view, while it has wrist-spin options in leggie Yuzvendra Chahal and Kuldeep Yadav, there is hardly any back-up off-spinner of quality at the moment.