Best team debate irrelevant, learn from loss: Dravid

Hindustan Times
22-09-2018
(Video by NDTV)
NEW DELHI, Sept. 22 -- India's 4-1 Test series loss in England stretched the team's drought in the country to more than a decade. Yet, head coach Ravi Shastri credited the current batch of players for having a better run than 'any other Indian team in the last 15-20 years.' Within those 15 to 20 years, however, came a Test series in 2007 when Rahul Dravid-led India trounced England at their home to clinch a threematch series 1-0.
The former India captain is not in the mood for any comparison though. Rather he feels that the Indian team failed to capitalise on key moments in the five-match series. "India definitely had their moments. They played some good cricket in conditions which were difficult at times, especially for the batsmen. I am not sure whether the team feels that this was an opportunity missed. They would feel that having played so well in certain parts, they weren't able to finish off games," Dravid said on the sidelines of a promotional event here on Friday.
"I think there were many positives especially in the bowling and as well as fielding. But I think the team would feel they had its chances but unfortunately the plans did not work out. India have to wait for four years to change that and there is a sense of disappointment in it."
Download the Microsoft News app for your Android or iPhone device and get news & live updates on the go. Follow our Cricket & Sports section in English and Hindi.
The India A and U-19 coach added that rather than focusing on which is the "best (travelling) team", the management should concentrate on correcting the mistakes committed.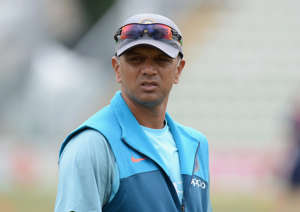 "The whole thing (best-team debate) has been blown out of proportion. I am not interested in commenting on what Mr Shastri feels or what he doesn't feel. For me, what's more important are the lessons that we need to take forward the next time we go to England. It does not matter whether we are the best or not the best. These are irrelevant things for me," Dravid said at the launch of Manipal Hospital.
"An England series happens once in three to four years. Sometimes the players who have been part of a series or the coaching staff will be disappointed as you never know what will happen in four years. We had a good team."
In the series loss in England, captain Virat Kohli stood out with 593 runs in five matches. Though there were centuries from Cheteshwar Pujara and KL Rahul, the collective effort seemed to be lacking in batting.
"The conditions in England were not easy for batting. I think batsmen of both teams struggled. If you take out Virat Kohli from the equation, it was not an easy series for the batsmen. I have played in England quite a bit, the conditions can be tough but it is rare to find five Test matches which had conditions as tough as the one they found," Dravid said.
"The next time we go there, we have to be better prepared and try and replicate conditions as best as we we can."
Photos: India's all-time best Test XI
(Slideshow by Sportskeeda)
More From Hindustan Times

Hindustan Times