Fair or unfair, Arjun Tendulkar has no escape from surname-pressure

Wisden India
26-09-2017
The most important cricketer in the world to not yet have played at any major representative level? Arjun Tendulkar, of course.
He bowls to Alastair Cook & Co in the nets at Lord's, when he isn't bowling to the cream of Indian women cricketers – also at Lord's – while on the family's London vacation. He features in one of the most watched biopics in India, Sachin: A Billion Dreams, and Glenn McGrath wants to watch him bowl. His selection in age-level teams in Mumbai make headlines; when he is picked in the city-state team for a non-BCCI event like the Baroda Cricket Association's JY Lele All-India Under-19 Invitational One-Day Tournament 2017-18, people beyond the confines of the local cricket circuit suddenly become aware of the competition.
Complete coverage: India vs Australia ODI Series
It's all in the name. Or the surname.
Imagine a young playwright-bard called, say, Serena Shakespeare. A rose by any other name wouldn't smell as sweet then, would it? A Gandhi in Indian politics; a Kapoor or Bachchan in Bollywood, a Tata or an Ambani in the business world– we know how that goes. If Junior joins the same profession as Senior, hell's only waiting to break loose.
For me, the highlight of John McEnroe's latest book, But Seriously, was Anna McEnroe's essay on being Johnny Mac's daughter, the daughter that also plays tennis. She writes, heart-breakingly: "I am Anna McEnroe, and to the eyes of a spectator, I was molded from the clay of Roland-Garros and run on the grass at Wimbledon. I am a McEnroe, a McEnroe who plays tennis well; a McEnroe who plays well, but not well enough."
Photos: Special world records of Indian cricketers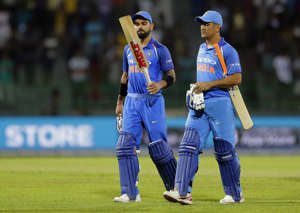 It is the story of almost every star kid, every star kid that, like Arjun Tendulkar, chooses to follow in an illustrious parent's footsteps, after initially getting the sort of foothold children of a lesser 'god' cannot even dream of.Arjun turned 18 on Sunday.
In the scorecards of the JY Lele matches I accessed, the young man had 14 in 12 balls from No. 9 and none for 32 from six overs against Madhya Pradesh. Against Saurashtra, he opened the bowling and returned 1 for 47 from five overs and didn't get a chance to bat, and in the game against Bihar Cricket Association Green, he didn't figure in the XI. Not much to write home about there.
Watch: 'Kohli's team could go down as one of India's greatest'
By all accounts, he is a well-built, quick, left-arm pacer. Jonny Bairstow would testify to that – he had to hobble out of the nets at Lord's after being speared by an Arjun yorker. Subroto Banerjee definitely trains Arjun. Perhaps others do too – at the Mumbai Indians training sessions, for example, where even the younger Ambanis pad up at times. Wasim Akram and Zaheer Khan have been known to spend time with Sachin's son. Arjun has been around at the Indian team's training sessions too, when Papa was still out strutting his stuff. If he wants to again, it's unlikely Ravi Shastri and Virat Kohli will deny him the chance.
He is apparently also a decent lower-order batsman, left-handed again, and seems like he has committed himself to a career in cricket.
It's a decision his parents appear to approve of. Sachin said in the Economic Times sometime in 2016 that he didn't want to put pressure on Arjun, and hoped the media wouldn't do it either. "Unfortunately, he has the excess baggage of his surname and I know that is going to be there. It is not easy for him. For me, it was different as my father was a writer and nobody questioned me on cricket. I feel that my son should not be compared to me and should be judged for who he is."
Fat chance there. What could he have done, though? Changed the surname, a la John Bradman/Bradsen?
And the Tendulkars have already gone there. Unlike, say, Jakob Dylan, who has said more than once that he never wanted to be accused of using or misusing his father's name to get ahead in his musical career. Not that there's anything wrong whatsoever in Sachin looking out for his son and getting Arjun the best training connections can procure. But there is some contradiction in saying that Arjun shouldn't be put under pressure but then featuring him prominently in the biopic, and allowing the boy to be under the spotlight at Lord's and elsewhere.A comparison, only a minor one, can be made with Rahul Dravid and his young son Samit. Samit plays cricket too and is a decent batsman. And, just as Arjun isn't a top-order bat, Samit isn't all patience and wall-like diligence. Like Sachin is happy with Arjun choosing whatever he wants to be on the cricket field, so is Dravid when it comes to Samit: "He's okay, he's got good hand-eye coordination. But no, he just smashes it and that's what I encourage him to do – just smash it," Dravid said some time ago, shy smile very much in place.
Of course, Dravid isn't Tendulkar, and the focus on his son will probably never be the same as the attention on Arjun. It helps that Samit is trying his luck in laidback Bangalore, not Mumbai. And that the Dravids are an intensely private family.
But where does Arjun go from here? Eighteen is a good age to take a call on one's career if it is to be centred on sport. He is definitely in the Mumbai Under-19 frame of things, but not in the national scene, going by the squads selected for recent series in the lead-up to the World Cup next year. Of course, not all national-level players get there after representing the country at the Under-19 World Cup, but in a country where so much cricket is played and that has so many thousands of cricketers, it's one way to gauge who the administrators are looking at seriously. At the moment, Arjun doesn't quite cut it.
There are times when you wonder if people are just waiting for the youngster to fall flat on his face. There were the social media memes about Arjun getting a leg up when Pranav Dhanawade (remember him?) was overlooked. Nepotism, they called it. The memes were back when Arjun made the Mumbai team for the Lele tournament. Son of auto rickshaw driver v Son of God. Does the son of the auto driver have a chance? How that algorithm works in a squad of 14-15-16 between a batsman and an allrounder is a puzzler.
To think Rohan Gavaskar or Arjun Tendulkar would be as gifted as their fathers is unfair, but that's the world starkids inhabit. The silver spoon is very much there, and everything will be laid out on a platter – the rest is up to them.
Rohan, who I think loves football more than cricket, still played 11 One-Day Internationals and forged a fairly successful first-class career with Bengal, scoring 6938 runs and picking up 38 wickets over 117 games. One hopes that Tendulkar Jr gets those numbers too. The odds are at once stacked in his favour as they are against him. The attention is not something he has asked for, but he hasn't shied away from the attendant benefits of it either. If he can deal with that pressure the way his father did for the better part of his career – and life – Tendulkar Jr will have achieved more than some expect him to.