How Indian cricketers performed after their marriages

Wisden India
17-07-2017
Marriage is perhaps a big change in life, but does it change a cricketer's on-field performance? The partnership as such may or may not have an impact, but let's look at how some current Indian cricketers have fared in the one year after their weddings.

MS Dhoni
Dhoni averaged only around 30 with the bat in One-Day Internationals and 26 in Tests in the one-year period after his wedding to Sakshi Dhoni on July 4, 2010. But all those numbers didn't really matter as he won the biggest prize for his country, the 2011 World Cup, in that season. Does his unbeaten 91 in the final against Sri Lanka at Wankhede stadium in Mumbai even need elaboration? To cap off a wonderful year, Dhoni also captained Chennai Super Kings to their second consecutive Indian Premier League title soon after the World Cup win.
R Ashwin
Ashwin began a new innings with Prithi Narayanan on November 13, 2011, barely days after bagging nine wickets on Test debut against West Indies. He returned to the side immediately after his big day and added 13 more wickets to his tally over the next two Tests, apart from scoring his maiden Test century, to end with the Man of the Series award. In all, the Indian offspinner got 60 Test wickets from 11 matches in his first year of marriage, and picked up another Man of the Series award against New Zealand. The ODI numbers were impressive too: 56 wickets from 40 matches.
Shikhar Dhawan
Dhawan had perhaps the best time of his cricket career in the first year of his marriage with Melbourne-based Ayesha Mukherji. Having tied the knot on October 30, 2012, he made his Test debut against Australia in March 2013, and we all know how that went: a record-shattering 174-ball 187 in Mohali. His ODI career was also revived during that period and he celebrated his recall to the format after two years with a Man-of-the-Series performance in India's successful Champions Trophy campaign in 2013. It was a tournament in which he was the highest run-getter with 363 runs from five games, including two centuries. Overall, he scored 931 runs from 19 matches at 54.76 in that period.
Cheteshwar Pujara
Another Indian cricketer who had a stellar year after his wedding was Pujara. The batsman married Puja Pabari on February 13, 2013, in Rajkot and had tremendous success in the home Test series against Australia the following month where he scored 419 runs in India's 4-0 whitewash victory. In all, Pujara scored 853 runs in nine Tests at an average of above 65, and also made his ODI debut in his first year of marriage.
Ajinkya Rahane

In the middle of a wonderful season with the bat for India in all forms of cricket, Rahane got married to Radhika Dhopavkar on September 26, 2014, in Mumbai. Then, the right-handed batsman scored runs at will in tough overseas conditions. He scored 399 runs in four Tests in Australia later in 2015, and a crucial century against Sri Lanka to help India win the second Test in Colombo. Overall, he made 675 runs from eight Tests, apart from 759 runs from 24 ODIs. He was a crucial member of India's World Cup 2015 squad and also made his national captaincy debut when he led a second-string Indian side for the tour of Zimbabwe in July 2015.
Umesh Yadav
Umesh Yadav married Tanya Wadhwa on May 29, 2013, and less than a month later, was a crucial part of India's Champions Trophy victory in England. Defending a modest target of 130 in a rain-curtailed 20-over final in Birmingham, Yadav gave India the first breakthrough, scalping Alastair Cook in the second over. He went on to give away just ten runs from his two overs, and overall in the one-year period, he got 12 wickets from 11 ODIs.
Suresh Raina
One of the latest in the list of married Indian cricketers is Suresh Raina, who tied the knot with Priyanka Chaudhary on April 3, 2015. In the subsequent IPL season, the left-handed batsman made 374 runs from 17 games – the first time he failed to score 400 in a season – but his team, Chennai Super Kings, made it to yet another final. In eight ODIs since then, Raina has made 180 runs with one half-century.
Mohammed Shami
Shami married Hasin Jahan on June 6, 2014, and less than a year later, turned out to be India's unsung hero in the World Cup 2015. He was the fourth-highest wicket-taker of the tournament with 17 wickets from seven games and played a crucial role in India's run to the semifinal. Overall in that first year, Shami got 37 wickets from 18 games at an average of 19.40, apart from 20 wickets from six Test matches.
Slideshow: Wedding photos of cricketers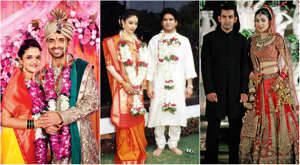 Watch: Virat Kohli's debut ODI innings