I asked to be rested for Sri Lanka series, says Hardik Pandya

The Indian Express
14-11-2017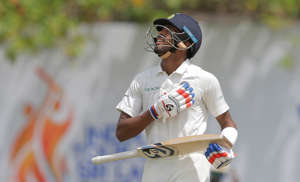 Indian team selectors didn't name Hardik Pandya in the squad announced for the first two Tests against Sri Lanka. The BCCI media release said the decision was taken in consultation with the team management. This week, the all rounder revealed that he himself had asked to be rested having played non-stop cricket in the recent past from IPL to ODIs and then making his Test debut in Sri Lanka earlier this year.
Complete coverage: Sri Lanka's tour of India
"To be honest, I asked for it. My body wasn't up for it, I have some niggles because of the amount of cricket that I have played. I want to play cricket when I am totally up for it, when I can give my 100 per cent. I am lucky that I have got this break. I will train in the gym during this break and improve my fitness. I won't lie, I am really excited for the South Africa series. I would like to use this break to improve my fitness for the series. I have played 30 ODIs, 25 T20s and 3 Tests in last one year. If they are saying I have played less cricket then I want to tell them 'I am sorry.' As an all-rounder it's even more difficult," he said in an interview to CNN-News 18.
Since the start of the Champions Trophy, Pandya has played 30 of 33 matches that India have played across formats. In this period, he has bowled 147.2 overs - the most by an Indian player. "I have not played this much cricket in my total cricketing career in such a short time. As an allrounder, it's difficult. I do my bowling, I do my batting, I do fielding as well, and managing my workload is very important right now because I have not played much cricket in my life," he said to justify asking for a breather.
Following the three Tests against Sri Lanka, India's focus shifts to tour of South Africa which promises to be a tough challenge for the top-ranked Test side. But Pandya who scored a hundred in his debut Test series, is excited about the challenge. "People keep on talking about away series. People keep on talking about England tours, South Africa tours, Australia tours, which is important, which is hard. I like these kinds of challenges I keep on getting in my life. That keeps me going all the time. It may be an important thing for me, important to have an allrounder who can contribute in bowling and batting both. I might be the difference, let's see. I've never played in South Africa. I'm pretty sure we're going to do well," he said.
"It's a hyped series. I like challenges in life, they keep me going. I want to make a difference for the team. I am sure we are going to play well," he went on to add.
Pandya who made his ODI debut in October, 2016 and the Test debut in July, has come a long way since making a mark in the IPL. "Yes, things have changed. I am not the same person I was three years back. The amount of love and respect I received, I would say that god has been kind to me. Obviously, I have worked hard for it. Confidence is everything. MS Dhoni had told me that there is a fine line between confidence and over-confidence. Make sure that you put your foot on this side and not that side," he said.
He recalls the failure while playing for Mumbai Indians as the turning point in his career. It changed things for the 24-year-old who has fast become a star in the Indian cricket team. "My life changed when I got a chance to play for MI(Mumbai Indians) and then I never looked back. I had a failure and that's when I learned to be even more professional. You need to go through the bad experiences. That's how you improve in life," he said. He also clarified that there was no truth to reports that he was leaving MI. "I was disappointed when I heard this news because this is false. This team has given me everything. Why would I leave it?"
An ardent film fan, Pandya shared how things have changed fro him - from buying the cheapest ticket to spending big on watches. "There were days I used to watch the morning shows as they were the cheapest. They used to cost Rs 30-40 and those were the only ones I could afford to watch. It's funny now as I buy five tickets so that no stranger annoys me when I watch a movie. I don't pinch myself (of the dream) but yeah I feel good when I buy big things like cars and watches. I am fond of watches," he said.