ICC World Cup 2019: 1983 World Cup winner picks Ambati Rayudu over Vijay Shankar for India's No. 4 position

Hindustan Times
6 days ago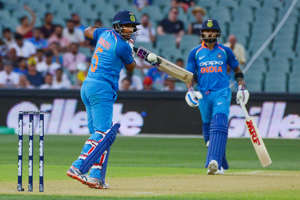 Former India wicket-keeper Syed Kirmani, who was part of the team that won the ICC World Cup trophy in 1983, believes that Ajinkya Rahane should have been a part of India's squad for the upcoming ICC World Cup 2019.
Kirmani also said that he would prefer Kedar Jadhav in the No. 4 position instead of Vijay Shankar and in case Kedar is not fit for the tournament, Rayudu should be included in the squad as his replacement.
"Just one thing that would have been different in my squad would have been the choice of Rayudu ahead of Vijay Shankar. I would not play Shankar at number four in the World Cup. My choice for that spot would be Jadhav if he is fit and if he is not it has to be Rayudu," Kirmani wrote in his column for Times of India.

"The flipside of the IPL has been the possibility of Kedar Jadhav missing out because of an injury. It would indeed be a sad moment if Jadhav would miss out. He has been an asset in the last two years in the 50-over format. If Jadhav does not make it, then I would pick Ambati Rayudu," he added.
Jadhav suffered an injury during the IPL 2019 encounter between Chennai Super Kings and Kings XI Punjab. While Kedar walked off and didn't take the field anymore, sources in the know of developments said that it looks more like an impact injury and the player should be fine in two weeks.

Kirmani, however, said that he believes in the Indian team and added that the lack of ODI cricket practice ahead of the tournament will not be a problem for Virat Kohli & Co as they have all-rounder strength in their squad.
"I can see that almost all the other sides are busy playing ODI cricket in some form or the other while India is going to go in cold for the tournament. But I think India will have no disadvantage going into the tournament because they have all-round strength. They have to remain positive and believe in their abilities," he wrote.
Also Watch: India name 15-man squad for 2019 Cricket World Cup
(Provided by India Today)
In Pics: The biggest controversies of Indian cricketers