India vs England: Another series loss, another chatty Virat Kohli press conference

The Indian Express
12-09-2018
(Provided by India Today)
"The Best Indian team in the last 15 years'. Do these tags put pressure on you? Do you actually believe you are?" A question dropped in like a punch at Virat Kohli. It was a reference to what the coach Ravi Shastri had said before the game that this Indian team was better than many other teams which "had great players".
Kohli stared at the questioner and started off calmly, "We have to believe we are the best side. Why not?" The questioner threw in the second punch. "The best team in 15 years?" Kohli now seemed agitated but controlled it to throw in a counter-question: "What do you think" The reply was: "I am not sure." And Kohli ended the terse chat with, "That's your opinion. Thank you."
This newspaper had reported that some players were a touch affected by the frequent chops and changes in the team and how some felt that there could be a better communication from the management. Kohli addressed it during the media interaction.
Complete coverage: India's tour of England
"We've had conversations around specific situations we were in and why they went away from us. A lot of time it's been on missed opportunities. It's literally one part of a session that we've given away and the whole Test match starts running away because the opposition senses it and they are more relentless about being on top. We have definitely spoken to individuals understand what they were thinking in certain situations. But of what happened on the field, why it took place and what was the thought process behind it, so that we can go totally into the root of the issue and try and correct it form there rather than just telling guys this was the cause and then you need to correct yourself. We have spoken to guys individually, yes."
He also drew a reference to the past teams and how this band of men were different. "Lot of teams in the past basically have given up but we did not do so. Look we don't think like people on the outside I have said before and again. And this kind of series shows you exactly the kind of character of individuals is and I see that as an opportunity and not adversity because if you keep winning all the time a lot of faults are swept under the carpet. And I don't see any series like that, they haven't been tough at all because of the kind of cricket we have played. I know people conveniently choose not to look at that but that's not us."
At the start of the fifth day, India stood a risk of being blown away. Had they done so, the conclusions drawn from the series could have been adverse. Kohli said that the team was aware of it and had spoken about how the performance on the final day could determine the future. "The one thing that we spoke about was how we react to the fifth day's play is going to determine a lot of what happens in the future for all of us. It is very easy to surrender and say its too difficult or we might not be able to do this … I mean that partnership was something like a great show of character. Not many people will realize it but they look at it as (England) might not have been interested or might not have had motivation but that wasn't the case clearly because they were going for the win."
Beyond that, the issue of margin of defeat was asked to the captain. Are you disappointed that you have lost 1-4 to this England team which has been beset with its own problems? "To be honest we don't see a massive-massive portion that we need to correct, because if you are competing in every game, and you have an upper hand in every game at some stage or the other, you are doing something right, we are not starting behind all the time you know, we have fought back in this series, England has had to fight back a few times, so they deserved to win because they played better than us, that is how we look at this series."
"We do not look at this series as something that makes us think we can't play in overseas conditions, of course we can play, but can we capitalise on the important moments better than the opposition? At the moment, no, we haven't done that, but in future, we want to do that, and that is the only way we win series and our aim is to win series, not to win the odd Test match and be happy about it. We are definitely not happy about the way the series has gone, but the way we played cricket is something that, not me, no one in the change room, no one doubts even one per cent, because we played with the right attitude and the will to win every game that we played."
Photos: Indian cricketers and their world records in Test cricket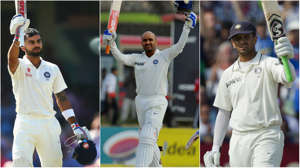 Download the Microsoft News app for your Android or iPhone device and get news & live updates on the go. Follow our Cricket & Sports section in English and Hindi.