India vs Sri Lanka: Another arrow in Jasprit Bumrah's quiver

The Indian Express
23-08-2017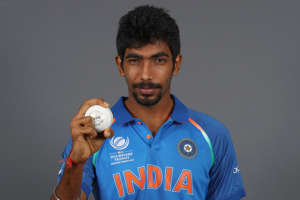 The go-to man in the Indian team is Jasprit Bumrah, when it comes to limited-overs cricket. The Gujarat fast-medium bowler is a natural with his yorkers, which makes him so successful in death-overs. An economy rate of 4.86 over 17 ODIs, when modern bats and benign pitches have made the bowlers' job very difficult, is a testimony to his shorter formats bowling skills.
Complete coverage: Sri Lanka vs India ODI series
His height allows him to extract bounce off the deck and Bumrah also has a deceptive bouncer. The 23-year-old is now trying to develop a knuckle ball. Knuckle ball is baseball's export to cricket. A knuckler, as it is called in baseball, minimises the spin of the ball in flight, causing an unpredictable motion. In cricket, a knuckle ball dips alarmingly mid-flight and starts wobbling. In layman's term, it is a fast bowler's doosra, to be bowled through the strength of the finger-tips.
Photos: Most controversial statements by cricketers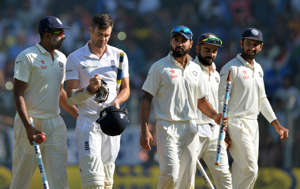 Like Zaheer Khan, pioneer of the knuckle ball in Indian cricket who picked the art from South African Charl Langeveldt, Bumrah, too, was covering the ball in his run-up while trying the new variety at the nets before India's first ODI. In the Dambulla game, however, he basically stuck to his stock ball that skidded through quickly off a length. He seems to be searching for more perfection and confidence before using it frequently in a match.
A bit of an IPL 2017 recap could be contextual here. In the fifth match, between Royal Challengers Bangalore and Delhi Daredevils, Kedar Jadhav had lined himself up to lift Zaheer over mid-off. But a knuckle ball from the veteran seamer deceived him. Beaten by the mid-air dip, Jadhav was holed out inside the circle.
Zaheer, the master
Zaheer mastered the art with ridiculous ease after he learnt the process from Langeveldt in 2010. Bhuvneshwar Kumar was the next Indian bowler to realise its wicket-taking potential as he started practicing the delivery after the Australia series earlier. It passed on to Mohit Sharma and now, Bumrah appears to have developed a serious interest for it.
Watch: 'India need to look at all-rounder's position before WC'
(Video provided by NDTV)
Gujarat Lions seamer Andrew Tye's success with the knuckle ball in the last IPL could also be a reason for its increasing popularity among the Indian bowlers.
Bumrah bowled first change after Kumar and Hardik Pandya shared the new ball in the first ODI. He started off with a slower against Danushka Gunathilaka but it didn't quite come off the finger-tips. On a pitch that offered little movement, there was no swing either, the fast bowler rather stuck to basics and used off-cutters occasionally.
Against a well-set  Gunathilaka and Niroshan Dickwella, he didn't experiment much. His first spell of four overs went for 19 runs without a wicket.
In his second spell, with the Sri Lankan batting on the slide, Bumrah basically searched for the yorker length. There's a school of thought that he overuses the delivery a little, especially at the death, and might become predictable after a while. Knuckle ball, when he perfects the art, will give him a new option; in the middle overs and towards the back end of the innings.
India's fast bowling coach Bharat Arun is very approachable and as R Ashwin and Umesh Yadav's revival would attest, he did a fine job during his first spell that lasted for close to two years. Now he is back to fine-tune the Indian bowlers.
Arun is impressed with Bumrah working on skills. "Blessed to have a bowling attack that's so versatile and each one is so different from the other. So it's about what the bowler wants to work on and my job is to give them feedback; the right feedback that helps them to evolve as a bowler."