IPL 2018: Shane Warne announced as Rajasthan Royals' mentor

Sportskeeda
13-02-2018
​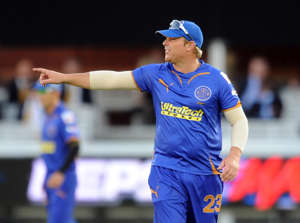 © Getty Images
Rajasthan Royals have appointed their former captain-cum-coach Shane Warne as the team mentor ahead of the 2018 IPL. The former Aussie, who was a part of Rajasthan Royals from 2008 till the 2011 edition, returns to the franchise after a gap of seven years. The wrist spinner from Down Under replaces Rahul Dravid, who was at the helm of the affairs before the franchise were suspended over corruption and match-fixing scandal.
Warne announced the news by posting "Very excited to be joining the @rajasthanroyals in this years #IPL as team mentor! #HallaBol" on his Instagram handle.
The Australian led the Royals for three seasons from 2008-11 during which he played 52 games and picked 56 wickets. Later, he continued to be a guiding force for the team. He also led Rajasthan in the 2008 edition where they surprised everyone by clinching win the title.
Speaking to the franchise's official website, Warne confessed that the Royals had always been close to his heart. "I am very happy and excited to be back with the Rajasthan Royals who I believe hold a very special place in my cricketing journey. I am overwhelmed by the love and affection showered on me by the franchise and fans of Rajasthan Royals. We have a strong, young and energetic bunch of boys and I am looking forward to work with them", he said.
Royals' co-owner Manoj Badale said that what Warne has done for the franchise is unmatchable and bringing him back is a way of giving back the fans who stood by the team in trying times.
"We welcome back Shane Warne as Rajasthan Royals mentor. He is a legend of the game and what he has achieved in Rajasthan Royals is unmatchable. Bringing back Shane Warne is also a way of giving back to our fans who have stood by us in trying times. As we are looking to build a strong team that can be in contention for the title, we believe Warne is the right person to mentor the Rajasthan Royals. Zubin has also contributed immensely to the growth of the team and we are happy to have both back on board. We are excited and looking forward to a successful comeback," he said.
​