KL Rahul: Batsman par excellence and Team India's style icon

India Today
17-08-2017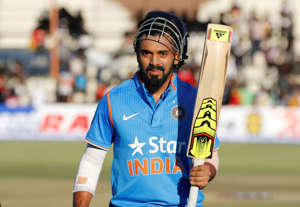 KL Rahul's sensational run in Test cricket has helped him cement his position at the top of the order.
The 25-year-old is now India's first-choice opener from a lot that includes Shikhar Dhawan, Murali Vijay and Abhinav Mukund.
Rahul, often plagued by injuries, is on a roll now, having smashed a world record-equalling seven fifties on the trot in Test cricket. And by the end of the 3-0 whitewash over Sri Lanka, Rahul had stormed into the top 10 of the ICC's rankings for Test batsmen.
However, scoring fifties is not Rahul's only specialty. He has worked hard on improving his Playstation skills and is now a preferred candidate for forward short-leg, even though he insists Cheteshwar Pujara is far more accomplished in that position: "It's just the senior-junior thing is still prevalent. The seniors are abusing juniors like me," joked Rahul in a candid interview with Pujara for bcci.tv.
But Rahul was all business-like when Pujara asked him about his style quotient. A Karnataka lad, born and bred in Bangalore, Rahul epitomises style and fashion like few other India cricketers.
Years ago, it was Rahul Dravid, who held sway with his easy charm and ready smile. So what is it with Karnataka players? How come they are always so cool?
"It came very naturally to me. Staying in a city like Bangalore, you learn fashion because if you are not well-dressed and well-spoken, people often make fun of you or look down upon you.
"The rest of the boys have to put in a lot of effort but to me it was very natural. Like I said, everybody over the last four or five years, has been looking up to me or drawing fashion inspiration from me. That's why you see all the cool dudes coming from Bangalore," Rahul said.
Rahul made a terrific start to his Test career, hammering a classy 110 in only his second Test against Australia at the Sydney Cricket Ground in January, 2015. In 2016, he smashed a hundred on debut before clobbering an unbeaten 110 in only his fourth T20 International.
More from India Today

India Today