Kohli, Ashwin, Saha, Pujara continue to shatter records

Wisden India
14-02-2017
More than sixteen years have passed since Bangladesh hosted their maiden Test match against India at Dhaka in November 2000. The ground which hosted that historic first Test is not used for cricket anymore, and nor do any of the players who played in that one-off Test play active cricket anymore. Since then, Bangladesh have toured every single Test playing nation and have graduated to a reasonable opponent.
The match in Hyderabad that finished on Monday (February 13) was the ninth Test between Bangladesh and India, but the first on Indian soil. It was also the first time the game went into the fifth day without any rain interruptions. The visiting side were unlucky to run into an Indian team at peak form in both batting and bowling.
Photos: 25 cricket facts you won't believe ever existed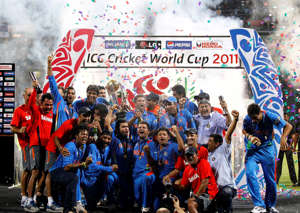 Given below are some of the highlights from the Test:
* Bangladesh became the ninth side to play a Test in India.
* They made their first Test appearance in India after playing 97 Tests in all, and 44 away Tests.
* It took Bangladesh 16 years, 2 months and 30 days to play a Test in India after making their Test debut, also against India, in Dhaka on November 10, 2000.
* Karun Nair became the only second Test batsman to be dropped for the next Test after scoring a triple century, other than an injury/illness being involved. Englishman Andrew Sandham made 325 & 50 at Kingston in April 1930, and was then dropped in the next Test, when the side's main openers Jack Hobbs and Herbert Sutcliffe returned to the side in the 1930 Ashes. Unfortunately for Sandham, he never played again for England.
* M Vijay had the following landmarks:
His ninth Test century
His second against Bangladesh
His sixth at home
His second at the Rajiv Gandhi International Stadium in Uppal, Hyderabad
His third this season
His 20th in first-class cricket
* Virat Kohli had the following landmarks:
His 16th Test century
His first against Bangladesh
His seventh at home
His first at the Rajiv Gandhi International Stadium in Uppal, Hyderabad
His fourth this season
His 23rd in first-class cricket
His ninth as captain
* Kohli now has a three-figure score against all the seven opponents he has played against in Tests. He is yet to play against Pakistan and Zimbabwe.
* When he was on 36 (in the first innings), Kohli took his aggregate to 1,000 runs this season. He now has 1,206 in this season, in Tests against New Zealand (309 runs), England (655 runs) and now Bangladesh (242 runs). This is the most by an Indian in a single Indian season in Tests. Virender Sehwag, the previous record holder for India, had made 1105 runs against Australia, South Africa and Pakistan during the 2004-05 season.
* Cheteshwar Pujara has taken his first-class aggregate this season (2016-17) to 1,654 runs. This is now the most runs by a batsman in an Indian first-class season. The previous record was 1,604 runs held by Chandu Borde during the 1964-65 season.
* The 222-run stand between Kohli and Ajinkya Rahane is the best for India for fourth wicket against Bangladesh, bettering the previous best of 189 runs between Sachin Tendulkar and Sourav Ganguly at Chittagong in 2007.
* Kohli became the first batsman in Test history to register double-centuries in four successive series. Don Bradman (in 1930-1932) and Rahul Dravid (in 2003-04) had made double-hundreds in three successive series.
* The double-century was also Kohli's fourth as captain. Only Brian Lara has more double-centuries as captain with five. Kohli joins Bradman, Graeme Smith and Michael Clarke on four.
* Wriddiman Saha (106*), who hit his second Test hundred, became the second Indian wicketkeeper to reach 100 with a six after MS Dhoni, who did it during his unbeaten 100 against Sri Lanka at Mumbai's Brabourne Stadium in December 2009.
* India have made 600-plus totals in each of their last three Test innings, with two against England in December 2016 followed by the first innings of this match against Bangladesh. They have thus become the first team to do so. Australia (November-December 1946), West Indies (November-December 1948), Pakistan (December 2005-January 2006) and India (November 2009) had earlier put up 600-plus totals in two successive innings.
* India's 687 for 6 declared is their fifth highest total in Tests and their highest ever against Bangladesh. It is also the second highest total made against Bangladesh in Tests. The best still remains the 730 for 6 declared by Sri Lanka at Mirpur in January 2014.
---
---
* R Ashwin's wicket of Shakib Al Hasan in the first innings was his first since his scalp of Ben Stokes in the first innings in the Chennai Test match. During this period, he bowled 349 balls without a single wicket. His figures between the Stokes and the Shakib wickets were 58.1-11-169-0 

* Mehedi Hasan (19 years and 109 days old) is now the youngest Bangladeshi to register a Test half-century against India. The previous youngest was Nafees Iqbal, who was 19 years and 316 days old when he made 54 at Dhaka in December 2004.
* Playing in his 52nd Test match, Mushfiqur Rahim (on 78) became the fourth Bangladesh batsman to aggregate 3,000 runs in Tests after Habibul Bashar (3,026 runs) in 2008, Tamim Iqbal (3,470 runs) in 2015 and Shakib Al Hasan (3,317 runs) in 2017. Mushfiqur now has 3,072 runs, which takes him past Bashar's tally.
* Ashwin's wicket of Rahim was his 250th in Tests. By doing so in his 45th Test match he became the quickest to reach this milestone. The previous record was held by Dennis Lillee, who achieved the landmark in his 48th Test, way back in February 1981. Dale Steyn (49 Tests), Allan Donald (50 Tests), Muttiah Muralitharan and Waqar Younis (51 Tests each) are the others in the list of those who have taken the least Tests to get to 250 wickets.
* At the end of this Test, Ashwin had 254 wickets in 45 Tests. For the record, Dale Steyn had only 232 wickets after his 45th Test.
* Rahim (127) registered the fifth Test hundred of his career and his second against India. He thus becomes the first Bangladesh batsman to make more than a single hundred against India in Tests. Interestingly four of his five hundreds have come away from home. He now has Tests centuries in Bangladesh, Sri Lanka, West Indies, New Zealand and India.
* This was India's sixth consecutive Test series victory, which is their best ever series sequence. Incidentally, it is also the best performance by an Asian Test side.
* The record for most consecutive series wins is 9, by both England from 1884 to 1891 and then Australia from 2005 to 2008.
* India also extended their unbeaten run of Tests to 19, which began on August 20, 2015 at the P Sara Oval in Colombo. India had lost the previous Test in Galle by 63 runs,while chasing Sri Lanka's set target of 176 runs. Since then in 19 Tests, India have won 15, drawn 4 and lost none.
* Kohli registered his 15th Test victory in his 23rd Test match as captain. Among players in their first 23 Tests as captain, only Steve Waugh has won more Tests with 17.
Most Test wins as captain after 23 Tests
17 wins: Steve Waugh
15 wins: Ricky Ponting/Michael Vaughan/Virat Kohli
14 wins: Don Bradman/Lindsay Hassett/Mike Brearley/MS Dhoni