Lording at No 3, 'cap-ton' wonderful

Hindustan Times
13-02-2018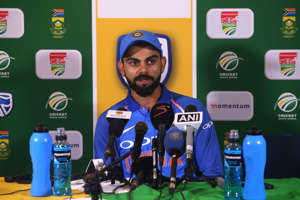 "Stepping out on the field and scoring centuries has become a routine for Virat Kohli." "He's on a different level this bloke wow." "Yet another ton for Virat Kohli ... the hunger & consistency is remarkable ... the greatest ever ODI player?"
The tributes from Sachin Tendulkar, David Warner and former England skipper Michael Vaughan, after Virat Kohli smashed an unbeaten 160 in the Cape Town ODI against South Africa, highlighted a key aspect in today's game. If there is a benchmark for consistency, fitness, intensity and hunger for big runs in any condition, it is Virat Kohli.
Complete coverage: India's tour of South Africa
Kohli's knock in the Cape Town heat highlighted his supreme fitness, considering 100 of his 160 runs were not in boundaries. His performances in South Africa have cemented his reputation, having scored centuries in nine out of 10 nations he has played in.
Photos: World records held by Virat Kohli across all formats
Kohli, who missed out on his third century in the series, and 35th overall, after being dismissed for 75 in the Johannesburg ODI, towers over every other Indian batsman at No 3, be it runs, average, strike rate, number of fifties or centuries. Kohli is the first Indian player after Sourav Ganguly to average 50 plus. His 27 centuries are streets ahead with Rahul Dravid's seven the next best by an Indian No 3. The range of Kohli's centuries is also staggering. In 2013, against Australia in Jaipur, he blasted a century off 52 balls, the fastest by an Indian in ODIs. In Cape Town, he faced 159 balls, the most he has faced in an ODI innings.
Kohli's hundreds in terms of balls faced indicates how he approaches his innings according to the situation. Of his 34 hundreds, 23 have a strike-rate of over 100, close to 70 percent overall. During a chase, 14 of Kohli's 20 hundreds have come at a strike-rate of over 100. Kohli's X-factor is he scores most of his hundreds at better than run-a-ball, which invariably gives the team a decisive advantage.
As skipper, Kohli has only got better as batsman. While he is third overall behind Ricky Ponting (22) and AB de Villiers (13) for centuries, his conversion rate in such a short span is remarkable, while always being calm.
Watch: Former star batsman surprised by SA's decision
More From Hindustan Times

Hindustan Times