Not in a bad place with captaincy: Smith

Wisden India
20-09-2017
Enough has been said about the weather in Kolkata ahead of the second One-Day International between India and Australia, set to played at the Eden Gardens on Thursday (September 20).
With the weather clearing up a little on Wednesday, the covers were removed for some time to check the situation after two days of relentless rain.
Complete coverage: India vs Australia ODI Series
The Australian team had an optional training session in the afternoon, and Steven Smith was quick to walk up to the middle to have a look at the strip laid out.
"It's got a little bit of grass on it, probably more than I've seen in India for a while," Smith told reporters at the end of the session. "It looks alright. A few cracks up and down the wicket but I don't think it will play a big part. Looks like the wicket has been used somewhere, I don't know in what game. I will have another look tomorrow, see what the weather is doing, see if any changes to the wicket, the curator might roll it a bit more or cut it. We will have another look in the morning and decide our team then."
Photos: Special world records of Indian cricketers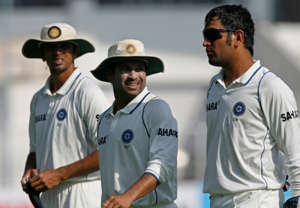 Australia, 0-1 down in the five-match series after having lost the rain-affected first match in Chennai, will be desperate to get things back on track. The visiting side's truncated chase exposed the chinks in the batting, with the top order failing to deliver.
"Certainly something to think about," admitted Smith, when asked if there has been talk surrounding the batting order. "To begin with, we'll turn up tomorrow, expecting to be playing the full 50 overs and if things change from there, we've got to adapt and do what needs to be done. We weren't good enough batting in the 21 overs that we had last game, certainly we've got to do a lot better."
India were 87 for 5 at one stage in Chennai, but Hardik Pandya and Mahendra Singh Dhoni resurrected the innings, dragging them to 281 for 7.
"I brought (Nathan) Coulter-Nile back to try and get a wicket and saved (James) Faulkner for the back end. I certainly tried to do that (go for the kill), we just weren't able to do so," explained Smith. "They batted well, formed a good partnership and we couldn't break that partnership."
Watch: Timing his innings well is Dhoni's greatest strength — Zampa
In response, chasing 164 in 21 overs, Australia struggled, and once the pacers had done their job, the spin duo of Kuldeep Yadav and Yuzvendra Chahal tightened the noose, restricting them to 137 for 9.
"One-day cricket is completely different to Test cricket," Smith said. "Obviously the other day, it was pretty much a shortened game. I think in 50 overs, you've got a lot longer to see the bowlers and knock them to the men in the outfield and get an opportunity to get into your innings. Obviously, the other day it was more like a T20 for us, in our batting. If it's 50 overs, guys would have the chance to get into their groove and play with the right tempo. I think it won't be an issue."
Michael Clarke, the former Australia captian, recently lauded Smith's skills with the bat but said his captaincy could be challenged, with a fair number of results going against Australia in recent times across formats.
"I don't think I'm in a bad place with my captaincy," disagreed Smith. "Obviously, the results haven't been the way we would have liked and that's something we are trying to rectify. Guys are working hard and it's all about getting out in the middle and getting the job done. It was a disappointing start to the series the other day, we've got other game tomorrow to turn things around."
Australia haven't had a chance to have a full practice session in Kolkata, with the ground under covers right through to protect the pitch and the outfield.
"I don't think it'll have a big impact," noted Smith. "The guys have worked hard since we've been here in India. We've obviously had a game not that long ago, so the guys are in a fine space. It's just been about just topping up a few things we can indoors and getting a few things right there. No excuses from us. We're ready to go tomorrow."