PCB chief manhandled after India vs Pakistan ICC Champions Trophy final

Hindustan Times
4 days ago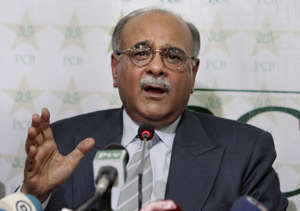 Pakistan Cricket Board (PCB) chairman Najam Sethi said he was manhandled, pushed and shoved by a small group of PTI supporters at The Oval after the India vs Pakistan ICC Champions Trophy final.
"I was manhandled pushed and shoved by a small group of PTI supporters. Police pulled me to safety. Overwhelming love and affection though," Sethi tweeted.
"Several journalists & eyewitnesses confirm a group chanting pro-PTI slogans was involvd in manhandling @najamsethi outside Oval #PakVsIndia (sic)," said a Twitterati, to which Sethi replied, "That is correct."
No one even touched Najam Sethi but he's claiming he was attacked beaten and hustled. See the video & judge yourself pic.twitter.com/fuGpWn3j8o

— Farhan K Virk (@FarhanKVirk) June 18, 2017
Pakistan came out with a splendid all-round performance as they defeated arch-rival India by 180 runs to lift their maiden Champions Trophy title.
Chasing a challenging total of 339 runs, India bowed down before the Pakistani bowlers and got all out for mere 158 runs in 33.3 overs.
Chasing such a big target, that too in the finals was never going to be easy and India had pinned all its hopes on Virat Kohli, one of the best chasers in the world as he had done so many times for the Men in Blue in the past.