Rahane back to looking in from the outside

Wisden India
20-08-2017
If you want a feel for just how compact the Indian side is at the moment, cast a glance at the dressing room in Dambulla on Sunday (August 20). It is very likely that you will spot Ajinkya Rahane there, drinks in hand.
This is a man whose last five One-Day International scores read 62, 103, 72, 60 and 39. One could argue that those scores came against a weak Windies line-up on the flat tracks in the Caribbean, but three half-centuries and a century - no matter the opposition - is a quite straightforward reflection of consistency, an understanding of 50-overs cricket, and more importantly, control in the art of batting. And yet, he finds himself on the sidelines ahead of the first one-dayer against Sri Lanka.
Photos: India v Sri Lanka ODIs — Records that matter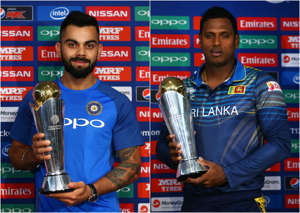 With Shikhar Dhawan and Rohit Sharma at the top, the only spot Rahane could possibly bat at was No. 4. But with KL Rahul returning to the Indian side for the tour of Sri Lanka after recovering from an injury, even that position is not vacant. Even when Rahul wasn't present, during the Champions Trophy, Rahane was benched in favour of Kedar Jadhav for each of India's five matches in the run to the final.
Rahane's constant presence on the bench doesn't necessarily reveal a major flaw in his ability, it just means that the openers and a youngster from Karnataka with a penchant for pleasing the eye in all formats are that good. It's near-tragic that the cost of such consistency from the trio is Rahane's place in the side for this series.
"I am sure there is always pressure on every player that plays, but more so on someone like Jinks (Ajinkya) when he goes out to bat in the shorter formats," said Kohli matter-of-factly on Saturday.
"What we try to do is tell the players that just go out there and express yourself and you will be back. See it's a pecking order that you need to look at. Shikhar, who was not even in the mix of things till a few months back, when he comes back you see what he can do. So it becomes very difficult for you to understand as to what do you do in that situation because he came back and scored in the Champions Trophy."Even Kohli couldn't hide the sympathy in his tone for Rahane's position, but as the skipper of one of the most dominant sides in cricket at the moment, it's all about making the tough choices. Leaving out someone with 2,573 runs from 78 ODIs and numerous match-winnings innings is not an easy decision by any stretch of imagination.
Watch: Not going to be predictable anymore — Kohli
(Video provided by Wisden)
"Jinks understands that at this stage he is the third opener in the team, we certainly back him because he has been shifted around a bit in the batting order which is not healthy for a guy who likes to open in the shorter format," offered Kohli.
"See, he grabbed his opportunities in the West Indies and he was Man of the Series and he continues to be in the set up. When you get a larger number of chances, and that depends upon players' form and all those sorts of things, you have to keep everything in mind. I think he is much more relaxed after that West Indies series… Yes, he felt the pressure before but he has overcome that now. He is enjoying his cricket."
'Enjoying cricket' is one aspect of it, but going from one net session to another without knowing when you'll get the chance to feature in the final XI is another matter altogether. Rahane has always been India's go-to man and it's unfortunate that he has to wait his turn yet again, but that has been the case for most of his one-day career. In fact, before being named skipper for India's tour of Zimbabwe in 2015, he was dropped for the tour of Bangladesh by the then skipper MS Dhoni because of his "inability to play on slow pitches".
Since then Rahane has shown, not only in ODIs but also in Tests and consistently, that he is the man for any occasion. Unfortunately, his services are not required at the moment, but that won't be the case forever.
The World Cup 2019 isn't far away and should luck smile on Rahane, he might be able to make the bus. If it doesn't, he can seek consolation in the fact that his skipper rests easy knowing that there's an ace No. 1 and No. 4 rolled into one to bail him out, should the situation arise.