Rested or rotated, Ashwin finds himself in a spin

Wisden India
22-08-2017
Sourav Ganguly and Harbhajan Singh threw the floor open for a debate, opining that the Indian selectors had not 'rested' R Ashwin for the One-Day International series in Sri Lanka. That they had, in fact, dropped him. Even though MSK Prasad, the chairman of selectors, made it clear that no one had been rested or dropped, that they had only been 'rotated'.
Complete coverage: Sri Lanka vs India ODI series
"I am not sure if R Ashwin has been rested or dropped. We have seen reports that Ashwin has been rested but at the same time in his rest period he is going to England to play county cricket. So I don't know what kind of rest it is going to be," Harbhajan told India Today on Sunday (August 20).
Photos: Indian cricketers and their 'unique' world records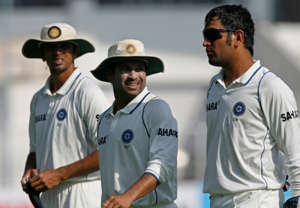 Ganguly seconded Harbhajan's views, saying: "I know where Harbhajan is coming from. There are no doubts about Ashwin's ability in Tests, but I have a feeling that Kuldeep Yadav is slowly going to get into the ODI side as a frontline spinner, especially on pitches which do not respond to the spinners when they go to South Africa, England and Australia and considering they are going to play the World Cup in England."
There is some logic to the thinking because Ashwin's ODI record in recent times hasn't been anywhere near as impressive as what he has achieved in Tests, though it must be stressed that in the last two years, he has played only 15 of India's 37 ODIs. But 150 wickets from 111 matches at 32.91 and economy of 4.91, especially with several bowls in the Power Play and at the death, are not shabby.
Ravindra Jadeja, like Ashwin also missing out on the Sri Lanka ODIs owing to the rotation policy, will most likely be the chosen one if India play just one spinner. Jadeja's 155 wickets from 136 matches at 35.87 and economy of 4.90 are not too dissimilar from Ashwin's numbers. Jadeja, however, is a livewire on the field and offers a great long-handle option lower down the order.
Watch: Malinga's pace has gone down, so we can attack him more — Dhawan
It has been evident for some time now that the Indian team has not relied on Ashwin in one-dayers to the degree that it does in Tests. Ashwin, 30, has been in and out of the side on a number of occasions. The trend started with MS Dhoni turning to Ashwin lesser and lesser in recent times. It was the Dhoni-Ashwin combine that had worked wonders both for India and Chennai Super Kings in the Indian Premier League. From towards the end of 2015, it no longer resembled a match made in heaven.
Dropped after just two ODIs in Australia in early 2016, Ashwin made his way back and featured in the World T20, where he didn't complete his quota in the semifinal loss to Windies. The same happened under Dhoni in the IPL too for Rising Pune Supergiants in season nine, and Ashwin was not too thrilled.With Virat Kohli taking over the limited-overs captaincy too from Dhoni at the start of 2017, Ashwin would have expected to get his due, but that has not been the case. Even during the Champions Trophy, Ashwin was left out for the first couple of games before being called up for the match against South Africa. He acquitted himself well but in the final against Pakistan. Ashwin went for 70 from his full quota without picking a wicket. Jadeja conceded 67 from eight overs, also without taking a wicket.
Both of them went on the subsequent tour of the Caribbean and had reasonable success, but because they haven't been picked for this series as the selectors look at what Axar Patel, Yuzvendra Chahal and Kuldeep Yadav have to offer doesn't really mean anything as of now.
India are set to host Australia, New Zealand and Sri Lanka over the next three months, at the end of which the core group for the 2019 World Cup will become clearer. Subsequent tours to South Africa, England and Australia will allow this group to prepare for the marquee 50-over event in England.
Each one of Kuldeep (22), Chahal (27) and Axar (23) brings something different to the plate. Kuldeep, the youngest of this lot, is the chinaman bowler with a penchant for putting on a show with his trickery. Chahal, the oldest, is far from a finished product but Kohli knows how and when to use his legspinner, given their time together at Royal Challengers Bangalore.
Then, there is Axar. The left-arm spinner with 38 wickets from 31 ODIs has been there and thereabouts since his ODI debut in 2014. He has age on his side and is gradually blossoming into a good all-round package, a poor man's Jadeja, if you like.
"Almost 24 months to go for the World Cup and now is the time to give players certain roles to get into the groove and understand what we need to do in reaching that World Cup final," Kohli had said before the start of the one-day series. "For us, it's all about when you want to start giving roles to players, experimenting as a team.
"Criticism will come along the way, you try things and lose and people will say that it shouldn't have been done and things like that. But we should be ready to embrace challenges and ready to take risks and ready to lose a few games when you need to try out something."
Kohli and his men have it all charted out, though whether the Ashwin-Jadeja combine features on this path remains to be seen. Perhaps both will be integral parts when the World Cup comes around, perhaps there will only be one in the mix in two years' time. The next three months or so will provide a clearer, sharper picture.