Sunil Gavaskar wants Indian batsmen to iron out flaws ahead of Australia tour

India Today
14-09-2018
Former India skipper Sunil Gavaskar has once again slammed India's poor preparations for the five-match Test series in England, who won 4-1. India's only victory came in the third Test at the Trent Bridge.
While India's bowlers have earned plaudits for their efforts, the batsmen have been heavily criticised for their failure on the English soil.
Barring Virat Kohli, no other Indian batsman was consistent. Cheteshwar Pujara, KL Rahul and Rishabh Pant did score hundreds but all came in losing causes.
Ajinkya Rahane too disappointed managing to score two fifties in 10 innings while opener Shikhar Dhawan struggled big time with 44 being his highest score in eight innings.
In 5 Tests, Kohli scored 593 runs at an average of 59.30 and finished the series as the highest run-getter. He also scored two centuries including a 103 in the victorious third Test.
Rahul (299) was as India's second-highest run scorer thanks to his 149 in the fifth Test. Pujara scored 278 from four Tests and was third in India's leading run-scorers list.
Apart from Murali Vijay, who was dropped from the squad after the first two Tests, Dhawan was the only other batsman in India's top five to have failed to even score a half-century.
Dhawan's overseas record is horrendous as compared to his performance in the subcontinent conditions. In 16 Tests in the sub-continent, Dhawan has scored 1403 runs with the help of 6 centuries while in 15 Tests in England, Australia, New Zealand and South Africa combine the southpaw has managed 1 hundred and scored only 695 runs.
India's next big test will the tour of Australia later this year and Gavaskar said batsmen will have to step up to face the likes of Mitchell Starc and Josh Hazlewood.
"I think massive changes are not required because that upsets the rhythm of the whole team. But you need to find the areas where you think were weak and need to be corrected. That is the need of the hour. We have to be brutally honest and see that this is the area we didn't quite measure up. That's the area they need to look at very, very hard.
"The results are there. We have seen what happened in South Africa and in England. It's an old saying 'if you fail to prepare you prepare to fail'. We know preparation is such an important aspect in international sport and we were aware that this was likely to happen. It happened and it doesn't really surprises that much.
"For Australia tour, the biggest hope is that without Steve Smith and David Warner India will have a pretty inexperience batting line up to contend with and we might as well win. But as we have seen in South Africa and England, bowlers will do their job but batsmen will have to get the runs. Whether the Indian batsmen will get the runs, even if it's 180 or 150 to win, against Mitchell Starc, Josh Hazlewood that we'll have to wait and see," Gavaskar told India Today.
Harbhajan Singh also slammed India's poor batting show in England and said he expected Virat Kohli to make a few changes in the team for the tour of Australia.
"India's bowling has been exceptional. This is the best I have seen in many years. India have never got four seamers running in and bowling 145 kmph and taking those wickets. But the bowling was not the concern, the concern was India's batting. I think India will have to address those areas. If you want to do well abroad, you need to sort out your batting. Virat Kohli likes winning and he will not sit back and relax. If there are changes to be made they will be made," Harbhajan said.
Gavaskar also said Rahul's return to form was a positive sign for India.
"Bhuvneshwar Kumar's return will strengthen the bowling department while KL Rahul coming back to form is a big positive. Rishabh Pant scored a hundred and the way Kuldeep Yadav bowled in the limited-overs series are also positive signs," he said.
India will tour Australia at the end of this year with the two cricketing giants scheduled to play three Twenty20 Internationals, four Tests and three One Day Internationals from November 21 to January 18.
India's next assignment is the Asia Cup starting September 15 in the United Arab Emirates.
Photos: Indian cricketers and their world records in Test cricket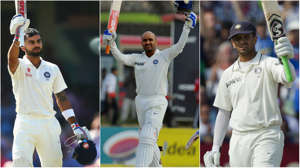 Watch: Do India have the best pace attack in the world?
Download the Microsoft News app for your Android or iPhone device and get news & live updates on the go. Follow our Cricket & Sports section in English and Hindi.
More from India Today

India Today