The Chinaman from Chandar Nagar

The Indian Express
24-09-2017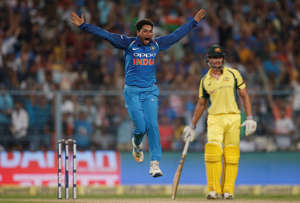 But if Warne made Kuldeep what he is today, another former player, he says, nearly nipped his career in the bud. In 2008, armed with all the Warne tricks learnt from TV, Kuldeep appeared for the Uttar Pradesh Under-15 selection trials. By then, as a 13-year-old, he was already playing with cricketers 10-12 years senior. "I felt ye sab to bachche hi hain mere saamne (these are just kids in front of me)," he recalls.
However, ahead of the trials, an influential former cricketer from Uttar Pradesh who Kuldeep had been watching told him he shouldn't be bowling chinaman but left-arm orthodox spin. Pandey says he won't name the person — "woh shaan hain UP ki isiliye main naam nahin loonga (he is the pride of UP so I won't disclose his identity)". "He said, 'Have you seen any successful chinaman at the national or international level? Why are you spoiling him?' But others supported me."
Complete coverage: India vs Australia ODI Series
On trial day, the same ex-cricketer again insisted that Kuldeep bowl left-arm finger spin. He did, and was not picked up. Satyam Dixit, who remains Kuldeep's friend and confidant, says, "It was his first brush with the whims and fancies of selection and the politics of it. He nearly quit." When the word "suicide" crossed his mind, Dixit adds, "It was the support system that he had around him, family, friends, coach, we helped him get over it."
Two years later, the Under-17 state trials came up. Pandey says he told Kuldeep, "You bowled left-arm orthodox at the U-15 trials, and even that guy who told you to do so couldn't get you in. So why don't you do what you are good at this time?" Kuldeep went in with his chinaman, and breezed through the trials.
The bowler wasn't just lucky in having Pandey spot his talent. Later, Kuldeep's entry into Indian cricket too had fortuitous timing. Over the years, wrist-spin has come back into fashion. Batsmen are less likely to decipher a chinaman ball, and this catapulted Kuldeep into prominence faster than a traditional spinner, even a leg-spinner. He made it to IPL even before becoming an India Under-19 regular. He was in the India squad before he made his Ranji Trophy debut.
Because of what he brought to the table, then coach Anil Kumble — in another slice of luck for Kuldeep, the former leg-spinner was at Team India's helm of affairs — handed him a Test cap against Australia in Dharamshala in March 2017. Thus playing him, a bowler, as a replacement for India's best batsman, Virat Kohli. In cricket's scheme of things, that is as good as it gets.
Photos: Special world records of Indian cricketers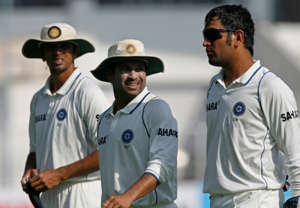 ***
However, in most other things, the boy from a cramped two-bedroom apartment in the lower-middle-class neighbourhood of Chandar Nagar, on the outskirts of Kanpur, remains the same. Almost all international cricketers from UP and, for that matter, most India players come from middle-class families and neighbourhoods similar to Kuldeep's. The first-floor flat Kuldeep shares with his family is a modest, 750-sq-ft accommodation. A big trophy cabinet takes up most of the small living room. On match days, while the family sits huddled around a TV set mounted on the wall, Usha places herself before a small shrine in the other corner and prays.
The street outside is not metalled, and is potholed. A Ford Ecosport, Kuldeep's first car, stands parked in front of their three-storey building. Father Ram Singh Yadav had started his brick kiln (bhatta) business in partnership in nearby Unnao district in 2002, on the family's ancestral land. That was the first time the family saw "prosperity". The property boom in Kanpur, Unnao and Shuklaganj helped Yadav buy out his partner and start another brick kiln within two years.
The financial security also helped him nurture the cricketing aspirations of his only son among four children. "Ek-ek lakh rupyaa roz ghar mein aata-jaata tha (There was a daily business of Rs 1 lakh)," remembers Yadav, sitting in the living room. But the bhatta business, as anyone will tell you, is risky. It can collapse suddenly — suggestive in the phrase "bhatta baith gaya". In the summer of 2005, Yadav's suffered the same fate.
"One evening, I was driving back from the site and there was a truck coming from the other side with only one headlight working. I thought it was a motorbike and rammed into it. I was in ICU for a week and a half, unconscious. It's a miracle that I survived," he says. While he recovered, the business collapsed. There were unbaked bricks worth lakhs at the site lying uncovered. One day it rained and everything was reduced to mud.
"We were set back by Rs 55-60 lakh. We had to sell one of our bhattas to settle the accounts. We never recovered. We never told our kids about it, but ehsaas to ho hi jaata hai (they could sense), especially because we had to move to a rented accommodation we could afford. It was during this time that Kuldeep was ignored for the Under-15. Perhaps that was the reason it affected him even more," says Yadav.
Their financial worries would never really go away till 2012, when Kuldeep was picked up by the Mumbai Indians for Rs 10 lakh. For two years, he didn't get to play matches, but the Yadavs got Rs 20 lakh. Then, in 2014, KKR bought him for $66,000 (about Rs 41 lakh back then). Kuldeep's contract helped take care of his two elder sisters' weddings. "It's really remarkable how our children handled our changed circumstances back then," Yadav recalls. "Kuldeep always adjusted, he never saddled us with demands as young boys sometimes do. And that's why you see he remains grounded even when he has seen all the money and glamour in the past three years."
The Yadavs purchased the Chandar Nagar flat in 2014 — their first very own place after 14 years in Kanpur. While they continue to stay there, they recently bought another flat as well as a plot in nearby Defence Colony. It is an area with wide streets and big bungalows.
"Kuldeep wants to buy a big car, a Mustang GT," says Yadav, though he doesn't know how to drive yet. "He was always fascinated by big fancy automobiles. He maintained a scrapbook that has all his paper cuttings from age-group cricket as well as stickers of sportscars and superbikes. The other day we went to the showroom to see the Mustang, but it's very expensive. Where will we park it? On this road outside?"
Now the family's first priority is to build a "decent house" where Kuldeep can invite his teammates when they are in town, as they often are because of the IPL coming to Green Park. One of the cricketers who may drop in is Kuldeep's other hero, Wasim Akram, now ironically the bowling coach at Kolkata Knight Riders.
"Kuldeep is very fond of Wasim Akram and he of him," says Kuldeep's sister Anita Yadav. "Last year when there was IPL in town for the first time, Akram said he wanted to come to our house. Kuldeep was embarrassed about what he would think of this flat, so he gave him the slip."
Anita gets up to go to the bedroom and fetch Kuldeep's scrapbook. The tattered notebook has a musty smell, made mustier by the monsoon. Inside, under each paper cutting, Kuldeep has written and underlined his bowling figures in a boyish handwriting. At places, he has written his name repeatedly in cursive, as if learning to sign autographs.
The pages are a catalogue of his remarkable journey — a combination of achievement and aspiration. As Anita closes the book, you notice who is on the cover. It is Irfan Pathan. In 2004, when Kuldeep started out, the left-arm seamer was the biggest up-and-coming star in Indian cricket. It is safe to guess whose picture will adorn the scrapbook of a Kanpur nine-year-old who has begun to play cricket in 2017.
The sweet patch
Started playing cricket in 2004
Picked by Mumbai Indians in 2012
Played for India at the 2014 Under-19 World Cup in the UAE. Finished as joint second highest wicket-taker with 14 scalps
Picked by Kolkata Knight Riders in the 2014 IPL auction
Picked for the Indian squad for the home series against the West Indies in 2014. Didn't play a match
Finished as the highest wicket-taker in the 2016-17 Duleep Trophy (17 wickets)
Made his Test debut in the fourth and final Test match against Australia in Dharamshala in 2017. Took four wickets in first innings
Made ODI debut against the West Indies in June 2017
On September 21, against Australia in Kolkata, became the first Indian spinner and third Indian bowler overall — after Chetan Sharma and Kapil Dev — to take an ODI hat-trick
The spin masters
Chinaman bowler is a left-arm spinner who primarily relies on his wrist, and not fingers, to turn the ball. He is the mirror image of a leg-spinner. A chinaman bowler's stock ball — also called a chinaman — turns into a right-hand batsman after pitching. His wrong 'un will break away from the batsman. A chinaman bowler's angles, and the fact that there are so few chinaman bowlers a batsmen grows up playing, can make him difficult to read.
Initially, such a ball used to be a variation for a left-arm orthodox spinner rather than a stock ball. Ellis 'Puss' Achong of the West Indies, an accomplished left-arm orthodox spinner and the first player of Chinese origin to play Test cricket, dismissed England Walter Robins using this wristy variation in the Manchester Test in 1933. As he walked back, Robins is reported to have uttered to the umpire: "Fancy being done by a bloody Chinaman".
Prominent chinaman bowlers include Chuck Fleetwood-Smith (Australia), Garry Sobers (West Indies), Paul Adams (South Africa), Brad Hogg (Australia), Kuldeep Yadav (India)