Think you are Dhoni? Dinesh Karthik trolled for denying Krunal Pandya strike in last over

India Today
11-02-2019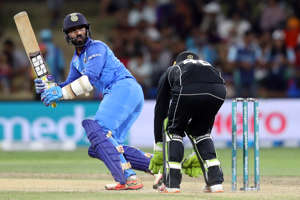 Dinesh Karthik had won India a last-ball thriller a year ago but in 2019 in Hamilton against a strong New Zealand side, Karthik fell just short of getting India over the line. India needed 16 off the last over in the third and final T20I but India could score only 11 and New Zealand won the match by 4 runs and the 3-match series 2-1.

Karthik smacked 33 off 16 deliveries while Krunal Pandya blasted 26 off 13 but the two failed to finish the game for India. Here is what happened in the final over ball-by-ball.
1st ball: Southee to Karthik - 2 runs; 2nd ball: Southee to Karthik - no run; 3rd ball: Southee to Karthik - Karthik denied a single after Krunal ran almost all of the pitch but Krunal somehow made it back; 4th ball: Southee to Karthik - 1 run; 5th ball: Southee to Krunal - 1 run; 6th ball: Southee to Karthik - wide; 6th ball: Southee to Karthi - 6 runs.
While Karthik and Krunal tried valiantly to win the game for India, Karthik's decision to not take a single in the last over with Krunal on the other side caught everybody's attention.

Both Karthik and Krunal were hitting well but the former decided to shoulder the responsibility of finishing the game for India and it was not well received by the fans.
Both captain Virat Kohli and vice-captain Rohit Sharma have mentioned that Karthik's role in the team is that of a finisher - one that MS Dhoni has held for long. And with Karthik denying a single and taking it upon himself to finish, fans drew the inevitable comparison and were not impressed by Karthik.
Brilliant hitting by DK but small mistakes have a big effect on the result in T20s. Was a mistake to not take that single with Krunal at the other end.#IndVsNZ

Sanjay Manjrekar (@sanjaymanjrekar) February 10, 2019
The Difference between Karthik and Dhoni is that Karthik has to prove himself in every match otherwise he will be thrown away from the team#INDvNZ

Sunil- The cricketer (@1sInto2s) February 10, 2019
.@krunalpandya24 26 not-out from 13 balls and got to face only 1 ball in the final over.

Hard luck, KP! #CricketMeriJaan #NZvIND pic.twitter.com/BVm2HmDguA

Mumbai Indians (@mipaltan) February 10, 2019
Dinesh Karthik wasted 2 deliveries even denied taking a single

Rohit Sharma & co. to Dinesh Karthik in dressing room

#INDvsNZt20 #NZvIND #NZvsIND #INDvNZ pic.twitter.com/IASfE3Ud1K

Freaky ~ DRaval (@HODL_till_2140) February 10, 2019
Mr. Dinesh Karthik you are not MS DHONI to deny a single and then finish with sixes. You might have done it once but you can't do it every time like MS does... #INDvsNZt20

Bastele Jhakday (@bastelej) February 10, 2019
Mr Over-confident @DineshKarthik .......we almost had it.. #INDvNZ

Tanmoy Ghosh (@TanmoyG98846487) February 10, 2019
While there was a large section of fans that trolled Karthik for allegedly attempting to be Dhoni, many fans also defended him and felt that he was underrated for his role in the team.
I remember MS Dhoni doing the exact same thing Karthik did and he had Rayudu at the other end. So stop judging, I'd actually salute Karthik for taking the responsibility on his shoulders. #NZvIND

Maverick (@maverickmonger) February 10, 2019
I know people would be mad, but be honest....14 off 3 needed, who would you rather want to be on strike? Karthik has chased similar scores in the past. I think he genuinely believed he could pull it off. #INDvsNZt20 #NZvIND #INDvNZ

Short Third Man (@vyatikram188) February 10, 2019
Ppl expect Dinesh Karthik to deliver 50 runs in 18 balls almost in everymatch #INDvsNZt20

Venkat (@Venkat52661433) February 10, 2019
Despite the loss in the T20I series, India would go home satisfied from the long tour Down Under after drawing the T20I series vs Australia (courtesy rain), winning the Test series against Australia 2-1, beating Australia in the ODI series 2-1 and thrashing New Zealand in the ODI series 4-1.
In pics: Top moments from a run-feast
(Provided by Indian Express)
More from India Today

India Today