Top 10 quotes on Rahul Dravid

The New Indian Express
11-01-2017
Rahul Dravid is widely regarded as one of the greatest batsmen in the history of cricket. Let's see some iconic quotes on him.
Shoaib Akhtar
The biggest nightmare I had ever faced was Rahul Dravid. He used to bore me. He was the first batsman, who could intimidate me, in terms of when he walked in, I knew I would have to field for at least two sessions more.
Brett Lee
If you can't get along with Dravid, you're struggling in life.
Chris Gayle
Dravid could play attacking cricket like me, but I could never play like him.
Muttiah Muralitharan
Rahul is always been in the shadow of Sachin. If you take his record it's as good as Sachin's, but you cannot compare both as they are different kind of players. Rahul is a complete cricketer.
Brian Lara
If I have to put anyone to bat for my life, it'll be Kallis or Dravid.
Matthew Hayden
All this going around is not aggression. If you want to see aggression on cricket field, look into Rahul Dravid's eyes.
Sachin Tendulkar
He (Dravid) is a perfect role model for youngsters. He has set a great example for all of us to follow. We are all trying to follow that path.
Steve Waugh
Former Australian skipper Steve Waugh once told his bowlers: "Try to take his wicket in the first 15 minutes, if you can't, then only try to take the remaining wickets."
Navjot Singh Sidhu
Rahul Dravid is a player who would walk on broken glass, if his team asks him to.
Ian Chappell
Team in trouble? Whom do you turn to? Rahul Dravid!
---
---
Slideshow: Rare photos of cricketers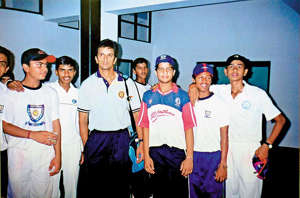 Watch: When Shoaib bowled Dravid & Sachin in two balls
More from Gadgets & Gizmos

The New Indian Express