Virat Kohli has a lot of Australian spirit in him: Michael Clarke

India Today
17-08-2017
(Video provided by NDTV)
Former Australia captain Michael Clarke feels Virat Kohli is often misunderstood due to his competitive spirit on the field but is a well respected figure in Australia.
Clarke, who is a big fan of Kohli, said the Indian skipper plays the sport in a way which is quite similar to the Aussies.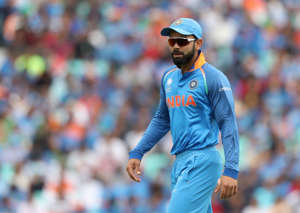 "I disagree that Virat doesn't have too many fans in Australia. I think Virat has a lot of Australian spirit in him. To be honest, he plays the game really tough and is really competitive on the field, but he is a nice guy off the field," Clarke, who is in India to promote Tourism Australia, said at an event in Pune.
"So when people get to know Virat, they realise that what they see on the field is just his competitive spirit. I can't think of any Australian cricketer who wasn't like that every time we walked out on the field."
The 36-year-old is good friends with Kohli and also caught with him over dinner during the Border-Gavaskar series earlier this year. 
"I certainly think there is respect for Virat in Australia. You probably are not going to read the positive stuff (about Virat) in the Australian media though. They all want to write a negative story. But I have a great relation with him and I think he is respectful," he added.
Kohli led Team India to its first overseas Test series whitewash after they hammered Sri Lanka by an innings and 171 runs in the third match in Pallekele on Monday to sweep the series 3-0. It was India's eighth successive Test series win and Kohli's second as captain against Sri Lanka after 2015.
Clarke also spoke about the long-standing pay dispute between the Australian players and Cricket Australia and said that he was happy after a deal was finally cracked between the two parties.
"It is fantastic that the deal has been done and everybody can focus on cricket. Australia will be travelling to Bangladesh very soon and then we come to India and then the Ashes, so it is wonderful that the game can now move forward.
"The players can focus on what they do the best - playing - and the administrators can do their job too. I think everybody is sick and tired of talking about it and very happy that it's over," Clarke said.
More from India Today

India Today