Virat Kohli needs MS Dhoni in leadership capacity: Sourav Ganguly to India Today

India Today
22-10-2017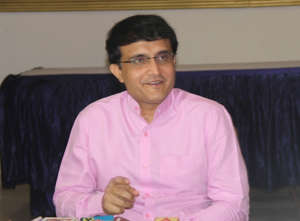 Virat Kohli has had a sensational start to his career as the captain of the Indian cricket team, winning eight consecutive Test series and six straight ODI series. Even with all the success, Kohli insists on having MS Dhoni in the ODI setup and is constantly seen taking advices from the old guard.

Former India captain Sourav Ganguly feels that Kohli needs Dhoni in the team and the former captain-wicket-keeper will surely continue till the 2019 World Cup.
"I think so (Dhoni will continue till 2019 World Cup). The best part for Dhoni is Virat Kohli wants him. He's 36 and he's not the flambuoyant MS Dhoni that we saw in Pakistan in 2004 but he's a different player now. Kohli needs him not just as a keeper but in the leadership capacity as well; he has got the best view behind the stumps.
"Virat backs him and that's what a player wants. His game has changed but that happens with everyone. With age you worry about your position, reputation and consistency and your game changes. Dhoni's game has changed just like everyone else's, even Sachin Tendulkar's game changed with age. I think he can survive till 2019, he is fit and most importantly, he knows his captain will back him," Ganguly said to India Today.
India will take on New Zealand in a three-match ODI series and three-match T20 series, starting October 22 and earlier on Friday, BCCI posted a video from India's net session where Dhoni was seen smacking a ball for a six, which brought back memories of his 2011 World Cup winning maximum.
ON VIRAT KOHLI
He's a remarkable cricketer. Nothing is behind the scenes for Virat Kohli and that's how captains should be. I like to see him on the field, he's upfront. He will be criticised for it but that's what captaincy is all about. There's transparency about Kohli, with him you know where you stand. Captains are also humans and they will like some players and won't like some, that's how it is because he has been given the job to captain India.
ON INDIA'S PERFORMANCE
India have been very consistent. Sport is all about consistency and this team has shown the potential, be it the ODIs and T20s against Australia or against England and New Zealand earlier.
They are ready, they just have to play well in that period (the overseas tours). The only thing they need to do is to keep the fast bowlers fit and good to go, they will come hugely. We have seen Bhuvneshwar and Bumrah but Umesh and Shami also need to be played, they need to be in the system.
ON HARDIK PANDYA
He looks good, bowling and batting both. I have always believed all-rounders should always get a place in the side and Hardik Pandya can be good. I like what I see but I will hold on my judgement, let him go around the circuit for a year or so and then we will find out. He has got the temperament and that stands out for me.
Full Coverage: India vs New Zealand
He should follow Jaques Kallis, work on his game, stay quiet, take a backseat and just look on. He will get opportunities because all-rounders are so important and they balance the team. He gives Virat Kohli a fourth fast bowling option in South Africa along with three other quicks. He's a huge plus for India, his batting technique looks good and with good fast bowling, I think he will stand up.
ON MS DHONI AND WICKET-KEEPING
he's different, not the orthodox one but you need to be different to be successful and he has that. he has learnt his craft with time but we must keep an eye on Wriddhiman Saha. he's better than ms at wicket-keeping, the best in the country right now. He bats at 6 or 7 for India so must keep an eye on him.
ON SELECTION OF DINESH KARTHIK
With Dinesh Karthik, I don't really know what the Indian management is looking at. If they are going for a second wicket-keeper then fine but he can't be a substitute for KL Rahul. Rohit Sharma and Shikhar Dhawan have been good in ODIs, Rahane has been brilliant in Test cricket and great in patches in ODIs but Rahul has done well in all the three formats; I am very surprised to see him dropped.
I have a lot of regard for Dinesh as a cricketer and he has a lot of runs in domestic cricket but he debuted in 2006 with me and this is 2017 and he's still in and out of the team. Look at what KL has done in 3 years, he has stamped his authority all around the world. As far as I'm concerned, he needs to be backed because he is your future.
More from India Today

India Today