Virat Kohli's 200th ODI: A look at India captain's sensational journey

India Today
22-10-2017
(Video provided by The Times of India)
He hates losing, he is a master chaser and he thrives under pressure. That are some of the qualities that Virat Kohli possess. Kohli is set to become the 14th Indian to feature in 200 or more one day internationals when the hosts take on New Zealand in the first match at the Wankhede stadium on Sunday. India host New Zealand in a three-match ODI series.
The long list is headed by the great Sachin Tendulkar, who retired after playing a record 463 ODIs. Rahul Dravid (344), Mohammed Azharuddin (334), Sourav Ganguly (311), MS Dhoni (306), Yuvraj Singh (304), Anil Kumble (271), Virender Sehwag (251), Harbhajan Singh (236), Javagal Srinath (229), Kapil Dev (225), Suresh Raina (223), Zaheer Khan (200 -- 194 for India, 6 for Asia XI) are the other Indians who have played 200 or more ODIs.
Kohli has been in sensational form since the beginning of 2016, hammering runs across formats. He had struck three hundreds last year and has scored four already in 2017 in ODIs. He has had a great year so far with runs against England, West Indies, Sri Lanka and Australia. The young captain was in fine form in the ICC Champions Trophy as well.
Full Coverage: India vs New Zealand
Kohli has been India's most prolific chaser since his ODI debut against Sri Lanka in August 2008 and has scored 16 hundreds in successful run chases for India till now.
Kohli, who notched up his maiden hundred against Sri Lanka in Kolkata on December 24, 2009, is also joint-second with Ricky Ponting on the list of most ODI hundreds behind Tendulkar (49).
CAPTAIN FANTASTIC
Kohli has also been a leader par excellence. If not with the bat, Kohli steps up on the field and fires up his teammates when the chips are down. He leads by example and enjoys support and respect in the dressing room.
Not only his teammates, even the opposition is in the awe of the 28-year-old's passion for the game. Kohli was named the full time captain after MS Dhoni stepped down from his post in January. Kohli's first assignment was a three-match ODI series against England and he came out with flying colours.
Under Kohli, India have played 23 matches this year and have lost just five ODIs with one game yielding no result. The series victory over Australia was India's sixth consecutive and fourth this year.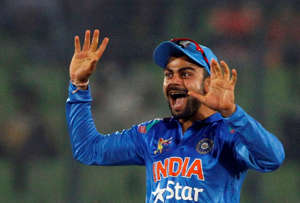 FITNESS FREAK
Kohli is also known as a fitness freak. Kohli follows a strict protein-rich diet to maintain high fitness levels.
It is no secret that Kohli takes his diet and fitness seriously. A role model and youth icon for both men and women alike, the world's best batsman is known for his protein-rich diet comprising lean meat, salmon and boiled vegetables.
Kohli's healthy diet plan has been so popular with his Indian teammates that they too follow a similar diet chart. While grilled chicken or paneer dishes for vegetarians serve as important sources of protein, a blender has also been installed at all the venues across the country as Kohli is against the idea of packaged juices.