When Virat Kohli fails, India loses

India Today
22-10-2016
Virat Kohli met with a rare failure in the second one-day international (ODI) against New Zealand at the Feroz Shah Kotla as Mahendra Singh Dhoni led India failed to chase down a modest 243.
Kohli, who has been in a sensational form this year, smashed three half-centuries and two hundreds in six matches before the Delhi game. He also became the first Indian Test captain to score two double tons.
However, after he departed early in India's chase in the Kotla ODI, the rest of the batting order could not regain any momentum. Despite Hardik Pandya's heroics with the bat lower down the order, India finished six short, giving the Black Caps their first victory of their ongoing tour.
Kohli, undoubtedly the greatest chaser in limited-overs cricket, had taken India home in Dharamsala with a composed unbeaten 85. But his importance in steering chases for India was highlighted further when he fell for nine and none of the top-order batsmen could put their hands up to play the sheet anchor's role.
Also read: Ganguly lauds 'terrific' Kohli
In 24 instances since the 2011 World Cup, whenever Kohli has scored 20 or less, India have lost 13 of those matches, winning only eight. Two have been tied.
Last 24 instances in which Kohli scored 20 or less:
Instances Ind won Ind lost Tied Win%
24           8            13         2     33.33
India banked upon Kohli to score a bulk of the runs in winning causes. They have managed to win only 33.33% of the games without Kohli smashing more than 20.
Slideshow: Virat Kohli - On and off the cricket field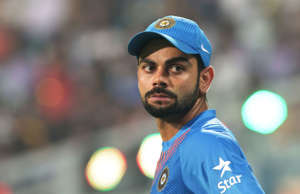 DHONI LOSING HIS MIDAS TOUCH AS A CHASER

Meanwhile Dhoni, who has played in 19 of those matches, has scored a total of 611 runs at an average of 47. The limited-overs captain has been steady after the 2011 World Cup, remaining unbeaten five times and scoring five half-centuries.
His performance in these 19 games is as under:
Mts Inns NO Runs Avg   50s
19    18    5    611   47.00  5
On Thursday night, while Kohli was dismissed for nine, Dhoni stayed longer to add 39. He had managed only 21 in the first ODI when India were chasing a significantly more modest total.
Dhoni's record in the last 19 games since the 2011 World Cup do not look impressive but his performance has seen a dip in the last two years in which he played 13 matches. His average came down to 32.81 from 47 in the last five years as he managed to score 361 with one Not Out and two fifties.
This is clear from the table below. His performance in the last two years:
Mts Inns NO Runs  Avg  50s
13    12    1     361   32.81  2
Amidst all the Dhoni-Kohli captaincy debate, it is established that India needs to consistently bank on their run-scoring machine Kohli in order to win tight games.
India will now play their third ODI against the Black Caps in Mohali on Sunday.
More from India Today

India Today