Yusuf Pathan Exchanges Sweets With Jawans, Twitterati Hail His Heart-warming Gesture

NDTV
18-10-2017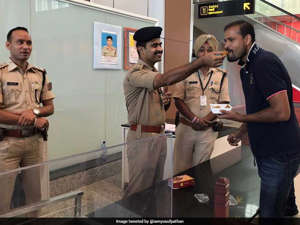 Baroda cricketer Yusuf Pathan's gesture on Wednesday of exchanging sweets with CISF security personnel at the airport was hailed by Twitterati. The all-rounder was greeted after he posted pictures on social media for his heartwarming gesture. In the pictures, Yusuf is seen spending time with the jawans. "Salute to the #jawans who are working even on the festival day. We exchanged sweets at the Baroda airport on the occasion of Diwali. #HappyDiwali," he wrote. While some users wished him a very Happy Diwali in response, few extended their respect for his gesture and praised him for setting an example. Yusuf's team Baroda will next play Tripura from November 1 in a crucial Group C encounter at Vadodara.
The 34-year-old Yusuf is currently playing Ranji Trophy for his state team under the captaincy of his brother Irfan Pathan. Yusuf, who last played for India in 2012, started the current season with twins tons against Madhya Pradesh.
Irfan even uploaded a video that showed his brother Yusuf reaching the landmark with a big hit that was followed by an animated celebration where Irfan was seen leaving his bat at the non-striker's end, slowly walking down to Yusuf and then giving him a tight hug.
Salute to the #jawans who are working even on the festival day. We exchanged sweets at the Baroda airport on the occassion of Diwali. #HappyDiwali pic.twitter.com/mtkdsEfNpA

— Yusuf Pathan (@iamyusufpathan) October 18, 2017