FIFA World Cup: Mbappe says 'I'm fine' after injury scare in training

India Today
13-06-2018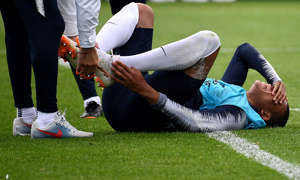 Kylian Mbappe gave France a massive injury scare just two days ahead of the 2018 FIFA World Cup as he went down during the official training in Russia on Tuesday.
Mbappe endured a knock from teammate Adil Rami after the latter tackled him during a training session and sent the French fans into worry.
An hour after the news broke that Mbappe was injured in training, the French star took to Twitter to confirm that it was nothing serious.
In fact, he even got behind Rami who received a lot of backlash post the newsbreak and asked fans to let him be as it was not a nasty tackle.
The injury scare for the PSG star came just three days after he had another trouble during France's draw with US but he had played that down as well.
He had said that was just a little knock which will go away with a bit of treatment.
"Ice packs? No, it is just a knock," Mbappe was quoted as saying by ESPNFC.
"I hit the ball poorly and I fell -- it is nothing serious. It will be treated, and it will go away," he added.
Mbappe is one of the most important players in a star-studded French national team. Despite having the likes of Antoine Griezmann, Paul Pogba, Olivier Giroud in the squad, the 19-year-old Mbappe holds his own.
In the latest friendly again the United States, it was Mbappe's 82nd-minute strike that saved Les Blues the blushes and helped them draw 1-1.
Didier Deschamps' French squad are one of the youngest teams in the World Cup and with a host of big stars, they are expected to set the world stage on fire.
France, at the back of almost the same squad, had reached the final of European Championship in 2016, only to lose to Portugal.
France, placed in Group C, will begin their campaign on June 16 against Australia. They will take on Peru on June 21 and then play Denmark on June 26.