Genius without backing is a cupboard without silver

Wisden India
24-06-2018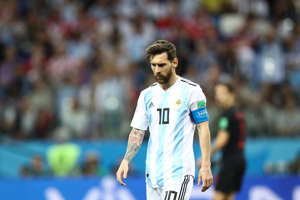 Editor's note: The opinions in this article are the author's, as published by our content partner, and do not represent the views of MSN or Microsoft.
The omniscient, unforgiving eye of several television cameras followed his every move, capturing his anger, his frustration and his helplessness for posterity. In his final World Cup appearance, Lionel Messi was expected to script the kind of fairytale for Argentina that he conjured almost on a weekly basis in the La Liga for Barcelona in the season gone by. But after an underwhelming two matches in which he has been in the news for all the wrong reasons, Messi and Argentina are hanging on by the slenderest of threads. Just one point against their name, they need a victory in their final fixture against Nigeria next week, and massive slices of luck, to merely advance to the round of 16.
Complete coverage: FIFA World Cup
The debate over who is better, Messi or his great rival from Real Madrid, Cristiano Ronaldo, has been raging for so long that it is no longer a debate anymore. On the evidence of what has transpired in Russia over the last week, Ronaldo has surged ahead on that count, with a stirring hat-trick against Spain followed by a wonderful early header against Morocco. Ronaldo, showman supreme, has a tournament-high four goals; Messi has a missed penalty against unfashionable Iceland, and a largely anonymous presence in the 3-0 hammering by Croatia on Thursday night.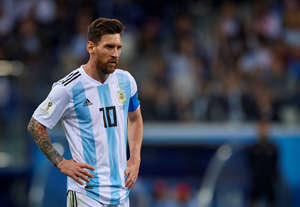 Messi has been burdened by the weight of expectations of nearly five crore Argentines – and millions of Argentina fans nestled in various parts of the world – and clearly, it is a weight that he is struggling to carry with any felicity. Historically, he has been a far better club player than country, and perhaps therein lies the tale – the quality of the men he plays alongside.
For Barcelona, with whom alone he has played all his senior club football, Messi has smashed 383 extraordinary goals in 418 appearances. He has won 32 trophies with the Catalan club, among them nine La Liga crowns and four Champions League titles.
The contrast is obvious when it comes to Argentina. 64 goals from 126 games is hardly trifling, but apart from an Olympic gold in 2008 when he set up the winner against Nigeria in the final, he hasn't been able to inspire his country to the dizzying heights his club has attained. Defeats in the World Cup final in 2014 at the hands of Germany, followed by losses in Copa America finals in 2015 and 2016 – where he missed his spot-kick in the shootout – at the hands of Chile have left a gaping hole in his CV. It didn't come as a surprise when, immediately after the 2016 defeat, he announced his retirement from international football, only to be met with huge public pressure to overturn his decision.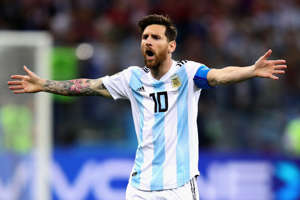 Mauricio Macri, the then Argentine President, led the demand with passion. "We are lucky, it is one of life's pleasures, it is a gift from God to have the best player in the world in a footballing country like ours... Lionel Messi is the greatest thing we have in Argentina and we must take care of him." Under this kind of pressure, the 'gift from God' buckled and changed his mind. He is still only 30, but this World Cup in Russia was seen as his last realistic chance of elevating himself to Diego Maradona territory.
That looks a distant improbability, as things stand. There is always the temptation, given his undisputed quality driven by the heart of a champion, to imagine him rousing himself out of his slumber – he had an unedifying 20 first-half touches in the rout against Croatia – and drive Argentina to the Promised Land. But reality can be harsh, and Messi will be among the first to admit that a series of mini-miracles must eventuate for the final miracle to even be contemplated.Will Messi, however, somehow become a lesser player if Argentina don't advance beyond the first stage in Russia? Or, should they manage that, they fall short at the next hurdle? Or the hurdle beyond that? Will his magic elsewhere count for nothing? The weaving, darting runs, the wonderful positioning, the left foot that truly is God's gift, the extraordinary balance and pace – will all these be swept aside and will he only be remembered by the failure to do for Argentina what he has accomplished with near-monotonous regularity for Barcelona?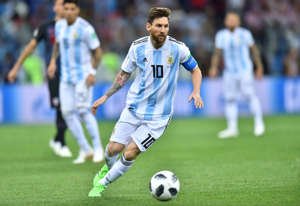 Most certainly not. Messi is a genius, a freak of nature, a magician who can do on the sporting arena what he deigns to do. But even he can only do that much in a team sport, where he is but one of eleven, never mind if he is the first among equals.
Hey wait, doesn't that sound like someone else the sporting world knows and loves unconditionally? And who recently rode away into the sunset, with a wealth of batting riches under his belt but no international medal around his neck?
Unlike Messi, AB de Villiers's climb to superstardom has been built almost solely around his accomplishments for South Africa. But like Messi (perhaps one is being presumptuous), de Villiers's career will remain about the one that got away. No World Cup medal, no World T20 glory, no Champions Trophy halo. AB's team entered every global competition as one of the strong favourites, and every single time, they didn't disappoint – for all their formidable resources, they were favourites to self-destruct, and as much as they hate the word and its attendant implications, the 'choke' seldom deserted them.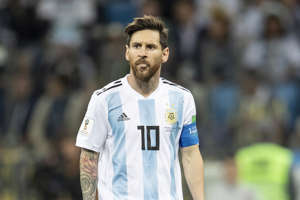 De Villiers could do anything on the cricket field – bat like a dream, producing strokes of such incandescence that they would blind you. Pluck catches from nowhere, triggering envy in Superman and Spiderman alike. Keep wicket, chase balls down, score direct hits. He made for compelling viewing, a magnetic presence magnified by his humility, a ready smile and an inherent charm that won him more fans in India than even most Indian superstars. Perhaps the only thing he didn't – not couldn't, one suspects -- do was keep wicket to his own bowling. And yet, for all his magnificence, there was no pot of gold at the end of the rainbow, no World Cup held aloft, no World T20 trophy to adorn the empty cupboard in the offices of Cricket South Africa. Does that make AB less of a champion? Less of an entertainer, a magician, an amalgam of grace and power, of elegance and fearsomeness? Do we really need to answer that?
The unfulfilled genius of de Villiers, and Messi, merely reiterate the value of the collective. Individual brilliance will only carry the day in individual sport and occasionally, just occasionally, in team sport. Inasmuch as the other ten might be the support cast in cricket or football, they must pull their weight for the special one to make his statement. The successful teams are the ones with several accomplished stars aligning to help the superstar apply the finishing touches. The power of one can't be underestimated, but it is the power of 11 that triumphs more often than not.
Photos: Eight biggest disappointments of the World Cup so far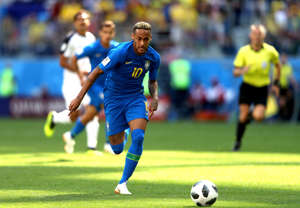 Watch: How Messi spends his millions
(Video by Time)