Not worrying about India team selection

Hindustan Times
20-04-2018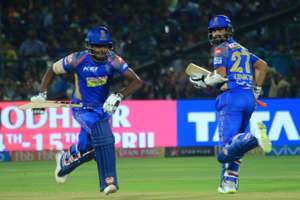 JAIPUR, April 20 -- Rajasthan Royals' Sanju Samson has had a dream start to the 2018 edition of the IPL. Out of his team's four matches this season, the 23-year-old has been named 'Man of the Match' twice and is also the tournament's second-highest run-scorer after Virat Kohli. The 23-year-old spoke about his form and hopes.
Full coverage of IPL 2018 on MSN
Excerpts:

Your IPL 2018 campaign has taken off brilliantly. How would you rate your performance?
It feels good to contribute to the team's success. It matters when your team wins and you contribute. But the tournament has just started, so it is important for me to help my team get good scores.
You have been praised of late by Virat Kohli and AB de Villiers...
It feels amazing when people like Virat and de Villiers praise you. I have to thank IPL for giving me a chance every year to come and play in front of these legends.
It is a once-in-a-lifetime opportunity, I feel blessed that I am able to compete against the best in the world. Playing with the best brings out the best in me. My goal is to maximise the potential God has given me.
In pics: Why RR lost against KKR
(Slideshow by Sportskeeda)
It has been three years since you debuted for India in 2015 in a T20 vs Zimbabwe. Since then the door to the India team has been shut for you.
I don't see myself making a return to any team. I don't want to see the future or my past. Those things are not in your control. When I got selected in 2015, I never thought I was going to be picked. The thing which is in my control is my fitness and skills. Opportunities are always there. If you are not playing for India then it is Kerala. The domestic season is so big, plus you have the IPL I am not worried about selections.
Watch: 'Royals will find it hard to leave out Laughlin'
(Video by ESPNcricinfo)
What has been (Kerala Ranji coach) Dav Whatmore's role in shaping your career?
Having Dav Whatmore for the last one year has been like fresh air in the dressing room. We are more at ease, able to express, talk things and play the way we want to. He has really helped me to be myself. The first thing he told me was, 'I just want you to play like Sanju Samson. If you want to hit a six off the first ball then go do it.' So he gave me freedom and space. I hope that Kerala Cricket Association keeps him for many years.