Pressure on Williamson in Sunrisers' last chance

ESPNcricinfo
25-05-2018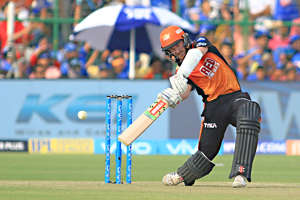 © Getty
He has led his team to four successive losses and now they face an in-form Kolkata Knight Riders on home turf in a knockout game
Form Guide
Kolkata Knight Riders: beat Rajasthan Royals by 25 runs, beat Kings XI Punjab by 31 runs, lost to Mumbai Indians by 102 runs
Sunrisers Hyderabad: lost to Super Kings by two wickets, lost to Knight Riders by five wickets, lost to RCB by 14 runs
Big Picture: Sunrisers Hyderabad play the perfect game. That's why their wins in the league phase were so remarkable. 
To defend small totals, Bhuvneshwar Kumar had to outsmart the enemy. Siddharth Kaul had to frustrate them. And Rashid Khan had to deliver the knockout punch. The legspinner's lucky his googly has top-secret status. Batsmen under the age of 90 can't read it.
And to chase 'em down, they needed Kane Williamson to understand that his mastery of defence has other uses as well. Like, when he extends his arms, while taking his usual care to pick the gaps, he can hit boundaries at will.
Elevating their individual skills to insane levels, and combining them seamlessly, is how Sunrisers made the playoffs. But, like any gamer worth his salt would tell you, boss mode doesn't last forever. You need contingencies.
Watch: The most closely fought IPL season, ever
And that's where Kolkata Knight Riders have been brilliant this season because if Lynn doesn't hit you, Narine will. If Karthik doesn't smash you, Russell will. If Narine doesn't make you question why you ever picked up a bat, Kuldeep will. This from the team that came out of the IPL auction with the smallest squad. Friday's going to be fun.
In the news: Sunrisers have lost four matches on the bounce - their longest losing streak in the IPL - soon after winning six on the trot - their longest winning streak.
KKR have won their last four matches and are relishing playing at home, something which wouldn't have happened according to the original IPL schedule, which had the playoffs in Pune.
Wriddhiman Saha, who was sidelined with a shoulder injury, was seen going through rigorous practice in Mumbai. Nevertheless, it was Shreevats Goswami who took the gloves for Sunrisers in the first qualifier and he may well do so again.
Likely XIs
Kolkata Knight Riders: 1 Chris Lynn, 2 Sunil Narine, 3 Robin Uthappa, 4 Nitish Rana, 5 Dinesh Karthik (capt & wk), 6 Andre Russell, 7 Shubman Gill, 8 Javon Searles, 9 Kuldeep Yadav, 10 Piyush Chawla, 11 Prasidh Krishna
Sunrisers Hyderabad: 1 Shikhar Dhawan, 2 Shreevats Goswami (wk), 3 Kane Williamson (capt), 4 Manish Pandey, 5 Shakib Al Hasan, 6 Yusuf Pathan, 7 Carlos Brathwaite, 8 Rashid Khan, 9 Bhuvneshwar Kumar, 10 Siddarth Kaul, 11 Sandeep Sharma
Previous meetings: Bhuvneshwar, Billy Stanlake and Shakib Al Hasan kept KKR to 138 in Hyderabad and chased it down with Williamson scoring a fifty. 
Chris Lynn and Robin Uthappa brushed aside a target of 173 at Eden Gardens, where the average winning first-innings score this season is 193. 
Strategy punt: Andre Russell has faced four kinds of bowling in IPL 2018 and here is how he's gone about his work: 229 runs at a strike rate of 209 against right-arm quicks, 38 at 237 against left-arm quicks, 16 at 200 against left-arm spinners and 30 at 103 against right-arm wristspinners. Pick the odd one out. Hint: Rashid Khan.
Best offbeat images of IPL 2018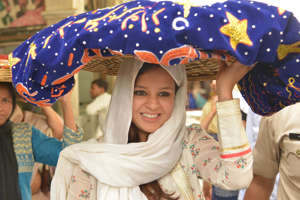 Stats that matter
Five KKR batsmen have made 300 runs or more: Dinesh Karthik (490), Chris Lynn (443), Robin Uthappa (349), Sunil Narine (331), Andre Russell (313). Sunrisers, meanwhile, have two. Kane Williamson, who is 15 short of becoming only the fifth player to score 700 runs in an IPL season, and Shikhar Dhawan (437)
Bhuvneshwar Kumar is four wickets shy of joining an exclusive list - bowlers who have picked up 100 wickets playing for one franchise. Awaiting his entry are Lasith Malinga (154 for Mumbai Indians), Harbhajan (127 for Mumbai) and Narine (111 for KKR)
Considering the quality of other wicketkeeper captains in IPLs - Adam Gilchrist, MS Dhoni, etc - Dinesh Karthik will savour becoming the first of his kind to 500 runs in a season
Sunrisers' economy rate in the death overs has risen from 7.49 to 11.87 over the last five games. Individual numbers have taken a hit too. Bhuvneshwar (8.2 to 15.1), Kaul (6.5 to 9.9), Shakib (7 to 13.5)
Fantasy pick: Grab as many as you can - Williamson, Russell, Karthik, Narine. But also keep an eye on Prasidh Krishna. The 22-year-old uncapped seamer has picked up 10 wickets in six matches. All of them have come in overs 16 to 20. Since his inclusion in the XI, KKR's fast bowlers have conceded 8.5 runs an over. Before that, they leaked 12.6 an over. 
Quotes: "Kane's playing well at the moment. Sometimes people forget to just bowl good balls at him. He's one of those bowlers who respects a good ball. It's not to be intimidated and go away from the plan. He's a good player, if you bowl enough in the right area you will create chances. But right now he's picking line and length very well, so the margins for error are very tight."
KKR bowling coach Heath Streak on Kane Williamson's staggering form and what his team can do about it