'Batman, Superman, WriddhiMan': Twitterati awestruck by Wriddhiman Saha's 'flying' catch

The Indian Express
24-02-2017
Every moment counts in the game of cricket, and sometimes the nuances of players on the field can make for a lovely sight. Something similar happened in the 81st over of the first Test between India and Australia. Wicketkeeper Wriddhiman Saha stuck out one hand and pulled off a Superman catch right at the middle of the stadium. Unbelievably (and phenomenally), the wicketkeeper flew (literally) and caught hold of the ball right in the middle of thin air!
Full scorecard: India vs Australia, 1st Test
As people's hearts skipped a beat, his dramatic catch dismissed Steve O'keefe off the bowling of Umesh Yadav. Not only did he prove himself as one of the best wicketkeepers India has ever had, he stumped most of the onlookers. Even Virat Kohli couldn't contain his surprise, and his expressions said it all.
The Bengal glovesman replaced Mahendra Singh Dhoni after he retired in 2014 and has been a saving grace for the team behind the stumps. Not just the Indian team, but the spectators sitting in the scorching sun lauded Saha for the stunning catch.
Watch how he took the catch here:
Twitter has been buzzing with cool memes after his flying act. Check out the tweets here:
Was it a bird or a plane...Noh it's #WriddhimanSaha ..what an outstanding catch Bong boy❤🌹Keep making #ViratKohli & The Nation proud of you😉

— M A N I S H A (@DiscoverManisha) February 23, 2017
Is that Batman..... Superman.... No It's WriddhiMan #Breathtaking @Wriddhipops pic.twitter.com/9tMZ9o5X36

— Deep Dasgupta (@DeepDasgupta7) February 23, 2017
That's the way aha aha,
We like it Saha Saha .. #WriddhimanSaha #IndvAus pic.twitter.com/jcOLItwlgc

— Raj Shekhar (@Razshekhar) February 23, 2017
We had superman, spiderman, batman and after today we have Wriddhiman....what a catch #WriddhimanSaha take a bow

— Anirban (@buzzingmind) February 23, 2017
Saha flies, Ausies flies.....& u know the meaning of both the "fly".... ;) ;) #PaytmIndVsAus #WriddhimanSaha

— Palash Banerjee (@pabsishere) February 23, 2017
Surely @Wriddhipops can take the plunge #IndvAus #WriddhimanSaha pic.twitter.com/2JLfUTMfyu

— Hemesh Shah (@amhemesh) February 23, 2017
Biopic on #WriddhimanSaha will be based on this catch #UdtaBengal what a catch that was #IndvAus

— Anirudh Sridharan (@anirudh990) February 23, 2017
Wriddhiman Saha gone way too much right to dismiss O'Keefe. This surely won't please Mamata Banerjee #IndvAus

— Debarati Majumder (@debarati_m) February 23, 2017
Photos: 'Unique' world records held by Indian cricketers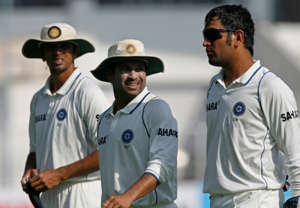 ---
---