"Dhoni is very grounded because of the struggles he faced"

Wisden India
29-10-2016
Ask even a passerby for Keshav Ranjan Banerjee's address in Ranchi, and you can be assured that they'll direct you to an apartment complex just outside MECON Colony that houses Mahendra Singh Dhoni's first coach.
A typical old-school colony vibe envelops you as you walk past moss-ridden quarters for about ten minutes to exit the gates. Jawahar Vidya Mandir's school students, dressed in white shirts, navy blue trousers and distinctly stripped ties, ride their bikes in haste or stroll casually out of the gate to get to the nearest condiment store. Between this favoured pit-stop and those wrought iron gates at the end of the MECON Colony is Banerjee's home.
A narrow, un-tarred road leads you to Rameshwaram Apartments. Upon query, the watchman directs you to the fourth floor of a crammed apartment block coloured in bright blue and white.
At this point, it should be noted that Banerjee was at the ISPAT Hospital for high blood pressure only 12 hours before his interaction with some reporters. But he still agreed to entertain the 'outsiders'.
We landed up at house No. 408, and Banerjee's broad smile ushered us in, tape on his left hand with a dot of blood and all. You could hear his ailing wife cough in the other room, but he kept his smile on, and answered each question — no matter how poorly strung together in Hindi — with patience. Being the head school coach for 33 years does teach you a thing or two. One of them is the patience to handle people, and the other is that when you do come across a rare talent you nourish it with all you've got. Banerjee offered his time and effort to one of Vidya Mandir's students back in 1991, and fruit of that labour is one of India's greatest skippers and the protagonist of MS Dhoni: The Untold Story.
Slideshow: Know your captain - MS Dhoni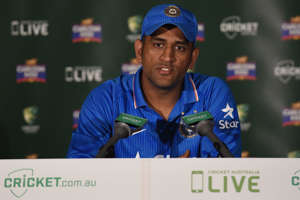 What about Dhoni's goalkeeping during that school game against R&D, SIAL in 1991 prompted you to convince him to take up cricket?

A small aspect of it is shown in the movie. You can't really see everything in the movie though. There was a big football match between Shyamali Football Academy and R&D, SIAL. One boy from the opposition kicked the ball from half-line. It was going towards the goal. Dhoni gave a full-length dive and punched the ball away. I then thought of trying him as a wicketkeeper because I needed one after a year-and-a-half. He was in Class 6 then.
In the movie you're seen denying Dhoni batting repeatedly. Why were you against it and when did you realise that he could actually bat?
Previously, small kids used to play everything – football, cricket, basketball. He's fond of playing tennis-ball cricket. The shots he plays now, he got all of them from there. It's all natural and nothing has been introduced to him. I believe in natural upbringing. After Class 6, he had learnt how to 'keep well, and although I told him not to bat, he would bat when I was late to practice sessions or when I was out on work. I only realised how good he was in Class 8 during an inter-school match where we were playing a quarterfinal. There were four overs left and he had to go at No. 7. He scored about 60 in those four overs. From that match, I realised that he can be moved up the order. In Class 9, he anyway went up the order because some of the seniors passed out. In Class 11 and 12, he started batting at No. 3 and 4.
Was he always such an intuitive captain?
He has always taken surprising decisions, and most times they click. There are no scientific reasons behind it. In the first T20 World Cup in 2007, he gave Joginder Sharma the last over. It's a crucial decision. If they had lost, they would have brought him down. He became captain of the school in Class 11 and even there he was like that. He always went with gut feeling. Also, nowadays, people get into affairs with girls and do drugs. In his case, he had no affairs with any girls in school. He always concentrated on games and spoke very less. That probably helped him look at things from a different perspective.
Did you know that he was going to become this big a star?
It's difficult to judge when someone is so young. When I was playing in Class 6, I didn't know I would become a PT sir. We change according to our circumstances. I started feeling good about him in Class 10. Every match, he started hitting 40s and 50s easily. In Class 10 only, he was chosen for the senior squad. He even got into the district team at about 14 or 15.
Do you feel like your life has changed since the movie came out?
Not really (looking around his humble home). You have seen many saying I am his first coach, second, third coach etc. I am not his first coach. His mother and father are. Then there's me. If his father had his way, Dhoni wouldn't be playing cricket. I played a small role. See we play inter-school matches and that's why our players go play in local tournaments for clubs. He started with Royals Cricket Club before moving to Commandos Cricket Club. He even played for R&D, SIAL teams. So he had many coaches teaching him along the way. I only spotted the talent in him. The rest is his hard work.
How is he as a person? Has he been the same since you saw him in school?
He's the kind of a man who'll answer any question you ask. Suppose you counter or keep asking the same thing again and again, he will still answer without getting angry. Very little does he talk with people he doesn't know. He talks a lot with friends because he's more comfortable with them than with any coach. I don't find any difference in him. In the beginning, he was like that and even now he is. I have seen him struggling from owning a single bat. How he managed that, I know. I guess that's why he's very grounded. This character is the same character I saw in Class 6, 7. Even with his father and mother, he speaks very little and to the point. That's out of respect. The family culture is like that.
Is your character in the movie an accurate description of who you are?

My character is the exact same. I have the same scooter downstairs. I don't go to buy fish only on Sundays though (smiles). I'm a sports lover. If you call me at 2am, 8am, 9am, I will come. At home, there will be work. My wife will ask me what it is and I usually tell her to shop fast. Sometimes, I would leave midway only. Sometimes, she gets angry and says 'all you care about is sports'. This is my profession, what to do.
Could you tell us more about the man Dhoni learnt the helicopter shot from?
In the movie, they show Santosh (Lal) teaching him the helicopter shot. He's not alive anymore so they should have highlighted his character more. He helped Dhoni in a big way. He learnt that shot at the AG Colony. They play a Cosco-ball night tournaments every year, and Dhoni learnt it there. He was playing for Youth Sporting Club at the time. He and Santosh used to hang around that colony all the time with a gang of friends. See the other thing they didn't show in the movie properly was that he didn't actually run away from the Railways job. If any government official runs away, the police will register an FIR against that person. They wanted to show it as a change of scene I guess.
Did you meet him when he was working at the Kharagpur station?
Yes, I went there after he got the job. Playing for CCL and getting Rs 15,000 as stipend wouldn't serve any purpose. I remember him saying that he needed money for his family. His father was a pump operator, how much could he earn? Cricket itself is a big expense. That time, a bat was around Rs 4,000. To manage all this, he needed a job. We also used to help in whatever little way we could. Whenever he broke a bat, we would exchange it with a bat from the school campus. We wanted him to get that chance.
Despite his age he's showing that he can run like he could when he was younger…
With age, fitness goes down. Now he's 35, his fitness will not be like he's 30, but he works so hard that he has still managed to stay very fit. Whenever he comes to Ranchi, he goes to JSCA (International Stadium) and does the fitness programme there. The fitness aspect will come down, but when I see him running even I now, I feel like nothing has changed.
What do you make of him batting at No.4?
I remember him scoring a century in that same position in 2012. It was tough for him in that game because they bowled very well and the pitch was a tough one to bat on. But, like I said earlier, he does these things, and sometimes it just clicks.
What do you feel about him crossing the 9000-run mark in One-Day International cricket?
It's a great feeling for me. I am satisfied that I did something for sports. Everybody does something, and I am happy that I have done something for the country.
Watch: MS Dhoni's best helicopter shots