"Great honour" – Ashwin hopes to live up to Waugh's Bradman compliment

Wisden India
15-02-2017
Nearly 13 years back, Steve Waugh had paid the ultimate tribute to the man the Australians loved to hate, terming Muttiah Muralitharan the Don Bradman of bowlers.
Throughout his celebrated career, Muralitharan had problems with and particularly in Australia, where he was repeatedly called for 'chucking' in the Boxing Day Test of 1995 as well as on later occasions.
In March 2004, not long after his retirement from Test cricket, Waugh had written glowingly about the Sri Lankan offspinner in his column in the Daily Telegraph: "Such is his aura, whenever anyone mentions Sri Lankan cricket his name immediately springs to mind."
The former Australia captain had added, "For teams about to take on this proud cricketing nation, about half the team meeting will revolve around how to combat his (Muralitharan's) unique style of bowling. This, of course, is much easier said than done because like all great players he has the ability to improvise, evolve and mutate to stay one step ahead of everyone else."
Muralitharan went on to play until August 2010, and when he signed off from Test cricket, he ended up with a whopping 800 wickets.
History repeated itself on Tuesday (February 14) when, in a wonderful compliment to R Ashwin, Waugh said pretty much the same of the Indian offspinner that he had of the Sri Lankan wizard so many summers ago. "Ashwin has done some amazing things," Waugh, the brand ambassador of Laureus Academy, said in Monte Carlo. "He has been the Don Bradman of bowling, I would say. Plus, he has been a handy batsman too. We need to overcome him if we want to be competitive."
The last sentence was in reference to the four-Test series between India and Australia, starting in Pune on February 23.
---
---
Ashwin, who took 29 wickets when Australia were hammered 4-0 in a four-match showdown in India in 2013, again looms as a massive threat, and last week became the fastest to 250 Test wickets when he got there in 45 matches, shading Dennis Lillee's pre-existing mark of 48 Tests.

Ashwin was, understandably, delighted at the high praise. While he hasn't always placed great emphasis on external expectations, his respect for Waugh shone through as he reacted humbly to the World Cup-winning captain's words.
"It's obviously a great honour when one legend of the game compares you with the best to have ever played the game," he told Wisden India.
The best to have played the game, inarguably, was Bradman, of course. The Australian finished with 9996 runs in 52 matches, with 29 hundreds and an incredible average of 99.94. Waugh himself was no slouch; in 168 Tests, he amassed 10,927 runs at 51.06 with 32 hundreds and 50 fifties, and twice led Australia to a world record 16-Test winning streaks, apart from steering them to the World Cup title in England in 1999.
Photos: Greatest spinners in world cricket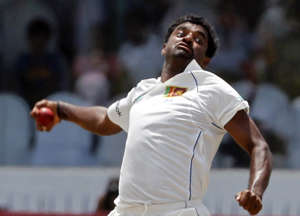 "Steve Waugh is one captain I have admired over the years and grew up watching, leading a near-invincible Australian side," added Ashwin, whose role in India's run of 15 wins in their last 19 Tests can't be exaggerated. "He raised the bar for other skippers to emulate."

Ashwin has often been his most committed and stringent critic, who is driven more by his own expectations of himself than by those of the others not in the immediate vicinity of the Indian set-up. However, acknowledging Waugh's stature as well as the gravity of his words, Ashwin remarked, "This accolade will be hard to live up to, but I will strive earnestly to ensure my performance graph is always high."
Waugh has universally been acclaimed as one of the masters of mental disintegration. This time around, he has fired a salvo of a different kind, a salvo that should fire up Ashwin even more than ever before.
Watch: Ashwin fastest bowler to take 250 Test wickets