Cricket tales that will make you cry

Polka Café
04-05-2017
The stories of struggles & pain some of your favorite cricketers endured during their journey to become superstars.
Why Ravindra Jadeja is the ideal son
Ravindra Jadeja had a tough journey to get to where he is. His father was a security guard at a shipping complex and financial difficulties made life tough for the family. Tragedy struck Jadeja at the age of 17, when his mother passed away in an accident. Grief stricken, the all-rounder almost gave up playing cricket, but it was his mother's dream to see him play for the Indian national team. Jadeja's need to fulfil her last wishes, along with the support of his sister helped him bounce back to cricket. He worked hard to secure a place in the Under-19 World Cup team and eventually, the national team.
Virat Kohli – A cricketer who was committed to the game even in a time of grief
Kohli was in the middle of an innings in a Ranji Trophy game when the tragic news about his father's demise reached. Kohli was in two minds, as going back home would mean quitting on his team, when they direly needed him. The star batsman stayed back and went on to score 90 runs in the innings, saving the Delhi team from follow-on, in a match against Karnataka. Kohli then rushed back to his father's funeral, the moment he finished his innings.
Mohammad Shami – The one that made it big in a family of fast bowlers
Shami grew up in Sahaspur village in UP. His father and brothers were fast bowlers too. In a village where there were no facilities for sports, playing for the country seemed like a distant dream. However, the family managed to save enough money to send Shami to Kolkata and it was here that a career in cricket began for him. Perhaps, dreams sometimes do need family support to come true.
Virender Sehwag - A cricketer who travelled the distance…Literally!
Sehwag was a treat to watch when he was in full form, rightfully regarded by many as one of the best openers in the world. The journey of this explosive batsman was not a simple one. Sehwag had to travel 84 km by bus to reach his cricket practice during his college years. Not an easy task to travel such a distance every day is it?
Bhuvneshwar Kumar - A pace bowler who did not let his family's support go to waste
The pace bowler from a Meerut village in Uttar Pradesh hailed from a poor family. His father was a sub-inspector, who with great difficulty managed to enroll Bhuvneshwar into a cricket club. The Indian pacer did not even own a proper pair of shoes at the time, but his supportive sister managed to help him out with it. Back in the finals of the 2008/2009 Ranji Trophy, Bhuvneshwar went on to dismiss Sachin Tendulkar for a duck and was awarded man of the match in the same game.
Irfan and Yusuf Pathan – The brothers who overcame poverty and societal pressures
The two brothers came from a family that suffered from poverty. Their father, who served as the muezzin at the local mosque, was determined to make his two sons Islamic scholars. However, the Pathan brothers turned to cricket instead. It is said that the dream of the brothers to be cricketers was a topic of ridicule among some of the people in the mosque, where their father worked. Influenced by the gossip, the father further tried pushing his sons away from cricket. Beating all the odds, the brothers went on to pursue cricket and eventually represented the Indian team.
Robin Singh - Proof of why perseverance pays
Robin Singh made his debut in first class cricket at the age of 19, in the match between South and Central Trinidad & North and East Trinidad. The all-rounder did not fare too well, scoring a duck and 13 runs in the match. He later moved to India in search of a career in cricket. After performing fairly well in domestic cricket, he was selected for the ODI series against West Indies in 1989, only to be dropped afterwards. He had to wait another 7 years before getting a chance to play for the Indian team at the 1996 Titan cup. After the series, Singh cemented himself as an indispensable middle-order batsmen in the Indian team. He was 36 years old when he got his first real break. Indeed, he is an inspiration to all budding cricketers.
Sachin Tendulkar – A personification of the greatest game on earth and a true Indian
Sachin Tendulkar was not the most focused kid. He was a rather mischievous one, actually. In order to keep him out of trouble, Sachin's brother Ajit introduced him to cricket and the master blaster became obsessed with it. He would practice endlessly for hours and hours. A little known fact - his mother has never watched him play live, except for his last match, which he had to request and arrange for to be in Mumbai, given the fact that she was wheelchair bound.
Vinod Kambli – A man who rose out of poverty like a phoenix, but fell victim to poor life choices
Vinod Kambli came from a very poor family who lived in a chawl in Bhindi Bazaar, Mumbai. His father Ganpat Kambli, who was a mechanic barely earned enough to provide food for the family, but Vinod was determined to be a cricketer. His passion led him to steal in order to buy a cricket kit. His then world record 664-run partnership with Sachin Tendulkar in an inter-school cricket tournament, earned him recognition that eventually paved his way to the Indian team. Kambli was an explosive left-hander who became the fastest Indian to score 1000 test runs. He was even regarded as better batsman than Tendulkar for a brief period and was being compared to Donald Bradman and other greats.
It is said that, Kambli's need for a lavish lifestyle started affecting his game. At the end of 2000, his form hit rock bottom and he was soon dropped from the Indian cricket squad. You can't help but wonder what this once an incredible player could have achieved, if he made better decisions.
Sunil Joshi - A champion spinner who took the long road
Sunil Joshi was a fine left arm spinner who perhaps had one of the most orthodox bowling actions you will ever see. As a young boy, Joshi had to travel over 60 km back and forth, from his home in Gadag to Hubli, to get to cricket practice every morning. The man bowled plenty of crucial spells for the Indian cricket team and made quite a few batting contributions as well.
Photos: Unique cricket world records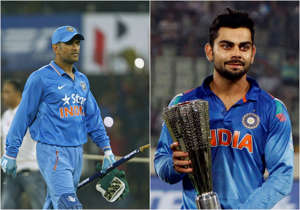 Watch: ICC would want India to play Champions Trophy — AB De Villiers
(Video provided by NDTV)