10 milestones and takeaways from India's record 4-0 series win

India Today
21-12-2016
India registered a 4-0 victory over England in the five-match series which culminated with an innings and 75 runs win for the home side in Chennai on Tuesday.
Best year:
Virat Kohli has now registered 9 victories in 12 Tests in 2016 without suffering a single defeat. This has been the best year for India in our Test history. 
Longest unbeaten streak:
© AFP With the win this is India's longest unbeaten streak in Test history which stands at 18 Tests.
Captain Kohli's record:
© AFP
Virat has now equalled Sunil Gavaskar's record (18) for the longest unbeaten streak for an Indian Test skipper.
2nd best: 
This is Test India's 2nd best Test series win ever. The best series victory was a 4-0 whitewash over Australia under MS Dhoni in 2012-13 which was a 4-Test series.
Jadeja's feat: 
Ravindra Jadeja is the first player ever to score a fifty, take 10 wickets and hold 4 catches in the same Test!
Nair arrives on Big Stage:
Youngster Karun Nair became the fastest man to score a Test triple hundred during the Chennai Test. This was only the third Test of his career.
England's loss:
477 runs scored by England in the 1st innings is now the biggest total any team has scored in Test history that resulted in an innings defeat.
100 hungry:
Six Indian batsmen scored a century during the 5-Test series. This is a record for India in Tests.
In elite company:
Virat Kohli now has 14 wins from his first 22 Tests as skipper. He is 3rd in the all time list along with Michael Vaughan. Only Ricky Ponting (15) & Steve Waugh (17) have more.
Most efficient skipper: 
With a win% of 83.33 Virat Kohli is the most successful Indian skipper at home. He also has the best win% away from home for all Indian skippers winning 40% of his away Tests.
Photos: World records held by Indians in Test cricket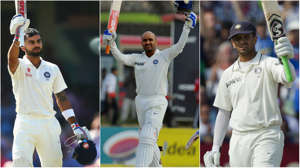 Watch: This is a new Indian team under Kohli — Gavaskar
---
---
More from India Today

India Today