10 scariest ghost stories involving cricketers

Wisden India
16-07-2017
From the ancient druids to Charles Dickens's A Christmas Carol, ghosts are as central to the English landscape as the game of cricket. And when you combine the two, you get plenty of tales of paranormal activities, equally chilling and thrilling.

From things that go drip, drip, drip in the night to Halloween masks put to excellent use, Wisden India looks at the lore behind cricket's best ghost stories.
Lady Lumley gets Ganguly to shoo, too
You would think Sourav Ganguly would have only fond memories of India's 2002 tour of England, after managing a respectable 1-1 draw in the Tests, a NatWest series victory, and the shirt-twirling celebrations. But a night at Lumley Castle proved just as unforgettable and for all the wrong reasons.
Ganguly woke up in the middle of the night to the sound of his bathroom tap running, but when he got up the taps were turned off. Half an hour later, déjà vu. When it occurred a third time, Ganguly ran straight to Robin Singh's room.
As India captain, he couldn't admit he was "worried about ghosts" so, naturally, he explained that his heating was broken and Robin obliged. Bullet, and ghost, dodged.
Lady Lumley chases away West Indies trio
Originally a manor house constructed in the 14th century, Durham's Lumley Castle was later converted into a hotel but, with rooms without bolts, secret doors and an overwhelming amount of red decor, it's definitely no Holiday Inn as three West Indies cricketers found out in 2000.
According to folklore, Lily Lumley, the wife of Sir Ralph, the original owner, was murdered in her room by two priests for refusing to follow Catholicism and then thrown down a well. Although a glass panel covers the well today, her ghost is believed to wander through the castle every night.
The West Indies trio, which included Jimmy Adams, the captain, didn't stay long enough to bump into her as an unsettling feeling convinced them to check out early. Whether that had anything to do with the side losing their two One-Day International games in the city is anyone's guess.
Watto lands up in Lady Lumley's room
There are a few things Shane Watson will never be likely to live down – a weakness for lbws, a weakness to review said lbw decision no matter how hopeless, and his ghoulish goings-on at Lumley Castle.
After hearing of how the lady of the manor met her maker in 2005, Watson wasn't able to get any shut-eye in his courtyard room and reported to the reception before famously seeking refuge on the floor of Brett Lee's room.
Word spread fast and the Australian team media officer, Belinda Dennett, confirmed the story to The Sun and added her two cents: "I saw ghosts. I swear I'm telling the truth. Several of the players were uneasy although a lot of them in the morning said they were fine … but maybe they were just trying to be brave."
"Scare dinkum – Aussies caught by the ghoulies at 'haunted' hotel" shouted the inevitable headline and, in the day-night match at Chester-le-Street that followed, Darren Gough poked fun at Watson as well.
The allrounder was later reassigned to Room 46 and that eventually calmed his nerves. Only when Watson checked out was he told that was the very room where Lily was murdered. Zoinks!
Forget Ghostbusters, call Bashar
Of course, not everyone runs the other way when they come face to face with a phantom. Habibul Bashar, for instance, showed he was made of sterner stuff when the Bangladesh team was put up at Durham's Redworth Hall Hotel in 2005.
The Jacobean manor house, built in 1693, is reputedly haunted by landowner Lord Surtees's mentally ill child. According to myth, Surtees chained his child to the fireplace and many a visitor is said to have heard his anguished screams and seen him walk down the corridors.
One night, a figure clad in white appeared in front of the Bangladesh team, but Bashar, the captain, rushed forward to attack the 'ghost', waking up several guests in the process. It turned out to be Mashtrafe Mortaza, armed with a bed sheet and a tape recorder, but the incident proved that Bashar, clearly, "ain't afraid of no ghost".
Sleepless night for Broad and Co.
For all their mocking of Watto, the English soon got a dose of their own medicine in 2014 when they stayed at the Langham Hotel. Built in 1865, the London hotel is another England establishment known to be a real house of horrors. Its resident ghosts include: a German prince who leapt to his death from there before World War I, a man who killed his wife and then himself on their honeymoon, Napoleon III, and a legless apparition in Room 333 – the most haunted room of all.
"I've slept OK during the current Test (against India), but the Sri Lanka Test was not great," recalled Stuart Broad. "One night I woke up in the middle of the night, around 1.30am and I was convinced there was a presence in the room. It was the weirdest feeling."
Broad, like Ganguly, had a similar experience with taps mysteriously turning themselves on and off, before shifting to Matt Prior's room, while Ben Stokes, too, endured a sleepless night on the third floor, "which is where a lot of the issues are".
Sohail in a cold sweat
New Zealand is one of the most breathtaking places in the world, but it left Pakistan's Haris Sohail out of breath and in a cold sweat after one frightful night at the Rydges Latimer Hotel in Christchurch in 2015. Sohail phoned a member of the coaching staff in the night, insisting that "his bed was shaken by something and it was a supernatural something".
When the coach rushed to his room, Sohail was found feverish, but he refused to buy into the belief that a fever was to blame for the experience. After being examined by a team doctor, he was shifted into the coach's room.
The hotel's management said it knew of "no active ghost" on the premises. But hey, ignorance is bliss, right?
One man's undying love for cricket
© Wisden Cricket whites and frights: 10 spooky tales of the game's ghosts

Few can match Reverend Edward Roberts's love for cricket – he always turned up to watch the action at the Birmingham club, even after his death in 1891. Trevor Townsend, a former local groundsman, believes he even has a picture of him.
"It is known he used to come and watch the games and people have said they have spotted him in the past," explained Townsend. A true fan indeed.
Wandering in cricket whites
A manor house dating back to 1785, aptly called Manor House, in Felpham, has never hosted any famous cricketers, aside from its resident 12-year-old ghost. Kenrick Clayton lived there in the early 1900s and was a promising cricketer, but was hampered by pneumonia. Clayton's mother, the owner of the manor, kept him locked in his room to prevent him from wandering around deliriously or infecting others and the boy eventually died in that room. Many guests have reported seeing him in his cricket whites wandering about.
Tiger on the prowl
Cricketers may be wary of the media nowadays, but there was a time when the media had to be wary of cricketers. KN Prabhu, the former sports editor of The Times of India, knew that all too well after Mansur Ali Khan Pataudi, or Tiger as he was fondly called, nearly scared the pants off him in 1962.
Pataudi had bought a scary-looking mask in Port of Spain and, after wrapping himself in a bed sheet and wearing the mask, he decided to pay a visit to Prabhu, who was staying at Queen's Park Hotel across the road from where the Indian team were put up.
He asked Nari Contractor, ML Jaisimha and Ghulam Ahmed, the team manager, to accompany him at night and, while crossing the road, a man driving his car spotted him and fled for dear life. All the more encouraged, the group hurried to Prabhu's room on the second floor where he happened to be reading Macbeth.
"He ran for his life and hid himself behind the curtains. The funniest part was Prabhu trying desperately to ensure that his pyjamas didn't fall off! It was quite a sight," recollected Contractor.
Gavaskar's teammate left red-faced and in the buff
Another cricketer who made the most of a spooky mask was Sunil Gavaskar. He bought a couple in New Zealand, and this particular one was a bald-headed one with long white hair on the sides. The Indian team were staying in a hotel in Auckland where the balconies were close enough that you could move from one to another with little fuss.
So, one afternoon, Gavaskar wrapped himself in a sheet, wore the mask, and went to the balcony next door where he saw a teammate preening in front of a mirror after a shower, with only his towel on. Gavaskar tapped on his window and the poor teammate bolted into another teammate's room, losing his towel in the process.
"If I could have stopped myself laughing, I think I could have got away with it," said Gavaskar later. Spoken like a true Scooby Doo villain.
Slideshow: Rare photos of cricketers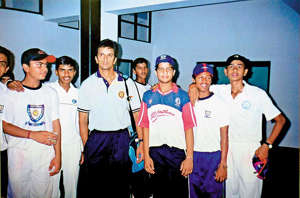 Watch: 10 biggest sixes in cricket history
(Video provided By Dailymotion)