1955 to 2012: A story of Indian dominance

Wisden India
21-09-2016
New Zealand's first visit to the subcontinent was in October 1955 when they went to Pakistan first and then came to India. At that time, New Zealand had not even officially toured Australia, which, incidentally, took place only in 1973-74, nearly 19 years later. New Zealand, then led by medium pacer Harry Cave, didn't have a happy time in this part of the world back in 1955: The heat and the food took their toll and several of the players came down with stomach ailments and other illnesses. The team lost a three-Test series 2-0 to Pakistan and then by an identical margin to India in a five-Test series. Since then, New Zealand have made nine tours to India until the last one in 2012. Overall, in ten series, India have won eight and drawn two. 

1955-56 (November 1955 to January 1956)
India 2 New Zealand 0
In the opening Test at Fateh Maidan in Hyderabad, Polly Umrigar (223) became the first Indian to score a double-century. But the match was drawn thanks to an unbeaten 137 from Bert Sutcliffe, the opener, after the visitors were asked to follow-on.
India won the next Test at Brabourne Stadium in Bombay by an innings and 27 runs. It was Vinoo Mankad's 223 and Subhash Gupte's eight wickets over two innings that helped India register an easy win.
The third Test at Feroz Shah Kotla in Delhi was a high-scoring encounter where just ten wickets fell for 1093 runs. Sutcliffe, on this occasion, made an unbeaten 230, which is still the highest by a New Zealand batsman on Indian soil.
The visitors just about managed to draw the fourth Test at Eden Gardens in Calcutta when they ended at 75 for 6 after being set a target of 235 runs in a little over two hours. New Zealand had taken the first-innings lead after bowling India out for 132, but centuries from Pankaj Roy and Gulabrai Ramchand in the second innings gave India the upper hand.
The fifth and final Test in Madras (Corporation Stadium) again had India winning by an innings thanks to the record 413-run first-wicket stand between Mankad and Roy and some fine bowling by Gupte, who claimed nine wickets in the match.
Photos: Meet India's 15-man squad for New Zealand Test series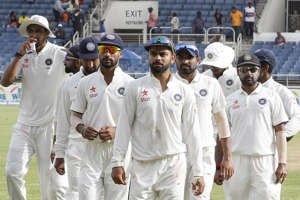 1964-65 (February to March 1965)
India 1 New Zealand 0
Nearly ten years after their maiden tour, the New Zealand returned to play a four-Test series. The first Test at Corporation Stadium in Madras was drawn, although the home side had the clear advantage after a taking a first-innings lead. But, after a century from Vijay Manjrekar, India did not have enough time to push for a victory.
Ten years after the previous tour, Sutcliffe once again underscored his love for Indian pitches with an unbeaten 151 in the second Test in Calcutta. He was ably assisted by debutant Bruce Taylor, who made 105. Despite MAK Pataudi's 153 the visitors took a handy lead. Taylor claimed 5-86, making him the only player to score a century and also take a five-wicket haul on Test debut.
In the third Test at Brabourne Stadium, New Zealand bowled India out for 88 in the first innings after scoring 297. Forced to follow on, India made amends led by Dilip Sardesai's unbeaten 200 and a 109 from Chandu Borde. India declared to set New Zealand a target of 255. When the match was called off, New Zealand had lost eight wickets for 80 runs.
With the first three Tests drawn, both sides were desperate for a win in the final Test in Delhi. Thanks to the 12-wicket haul by S Venkataraghavan, the teenaged offspinner, India won by seven wickets.
1969-70 (September to October 1969)
India 1 New Zealand 1
On this occasion, New Zealand finally won a Test match in India. However, India did take the lead with a 60-run win in Bombay in the opening Test. The architect of this win was Erapalli Prasanna and Bishan Singh Bedi, both claiming eight wickets each in the match.
In the next Test in Nagpur, the New Zealand spinners, led by Hedley Howarth's nine wickets and Vic Pollard's five wickets, bundled out India for 109 to register an easy win by 167 runs – their first ever in the subcontinent.
The deciding Test in Hyderabad was a low-scoring one, but was dominated by the visitors. Unfortunately for them, rain came to India's rescue and the match was drawn, with the home side seven down in the second innings.
1976-77 (November to December 1976)

India 2 New Zealand 0
This series, too, as in the previous ones, saw the Indian spinners dominating the three-match series as the home side won 2-0. They claimed 50 of the 55 wickets that fell to bowlers across the three Tests.
India won the opening Test at Wankhede Stadium comprehensively enough, by 162 runs. Sunil Gavaskar made 119 – his first century at home, while Bedi claimed seven wickets in the match.
In a high-scoring second Test in Kanpur, as many as six Indian batsmen – including Bedi, who scored a career-best 50 not out – scored half-centuries, but none of them got to three figures. Though the visitors lost seven wickets in their second innings, a result could not be achieved with time running out.
In the final Test, at Chepauk in Madras, the Indian bowlers dismissed New Zealand for under 150 twice to ensure a big victory by 216 runs. Bedi, with nine wickets in the match and 22 in the series, was the star.
1988-89 (November-December 1988)
India 2 New Zealand 1
The opening day of the first Test in Bangalore witnessed Richard Hadlee becoming the leading wicket-taker in Tests. But Navjot Singh Sidhu's 116 and Dilip Vengsarkar's 75 ensured India had a decent total, and India emerged victorious by 172 runs, thanks to Narendra Hirwani and Arshad Ayub, who both claimed eight wickets.
In the second Test at Wankhede Stadium, India collapsed to a brilliant spell of offspin bowling by John Bracewell, who dismissed the home side for just 145 in less than 50 overs in the first innings. He finished with 6-51 and with eight wickets in the match, as New Zealand won by 136 runs, only their second victory – and their to date – in India.
However, in the final Test in Hyderabad, Ayub's seven wickets ensured an easy victory for India by 10 wickets. Ayub (21) and Hirwani (20) were the leading bowlers for India in the series.
1995-96 (October-November 1995)
India 1 New Zealand 0
For their sixth tour, New Zealand were led by Lee Germon, who hadn't played Test cricket before the series. India raced to an easy victory in three days in Bangalore in the first Test, with local boys Anil Kumble and Javagal Srinath combining to bundle New Zealand out twice for under 250 runs.
The next Test was a damp affair as rain meant only 71.1 overs were possible.
The final Test at Barabati Stadium in Cuttack was also interrupted by rain. But on this occasion 178 overs were possible. Before the Test was called off, Hirwani managed to pick up six wickets.
1999-00 (October-November 1999)
India 1 New Zealand 0
India, with six players from Karnataka in their playing XI, managed to escape humiliation in the first Test PCA Stadium in Mohali after being bowled out for a dismal 83 in 27 overs just after lunch on the opening day. The tormenter-in-chief was Dion Nash, who claimed 6-27 in his 11 overs, while Chris Cairns and Shayne O'Connor were effective too. Srinath's 6-45 restricted the lead to just 132 runs. In the second innings, India came back strongly as they declared on 505 for 3, with both Rahul Dravid and Sachin Tendulkar scoring centuries. Set 374 to win in about 138 overs, New Zealand finished at 251 for 7.
On a turning track at Kanpur's Green Park, Kumble claimed ten wickets, including 6-67 in the second, to set up an eight-wicket win for India.
Then, on a barren pitch at Motera in Ahmedabad, Tendulkar registered his maiden Test double-century (217). He was assisted by both S Ramesh (110) and Sourav Ganguly (125) in India's first-innings total of 583 for 7 declared. Despite taking a first-innings lead of 275 runs, India could not press home the advantage, and the Test petered to a draw.
2003-04 (October 2003)
India 0 New Zealand 0
New Zealand made a short tour of two Tests in October 2003. Centuries from Dravid and Ganguly enabled India to declare on 500 for 5 in the first Test in Ahmedabad. The visitors, in reply, reached 340, thanks to 103 from Nathan Astle. With some quick batting in the second innings, India tried to enforce a win, but were unable to do so, as New Zealand held on to earn an honourable draw while losing six wickets.
In the second Test in Mohali, New Zealand reached a massive 630 for 6 before declaring after 198.3 overs, with as many as four of their batsmen – Mark Richardson, Lou Vincent, Scott Styris and Craig McMillan – reaching hundreds. India were forced to follow-on despite centuries from Virender Sehwag (130) and VVS Laxman (104 not out). In the second innings, India lost their top three for just 18 runs, before Aakash Chopra (52) and Laxman (67 not out) pulled them through.
2010-11 (November 2010)
India 1 New Zealand 0
The opening Test in Ahmedabad was drawn. Sehwag's 173 and Dravid's 104 took India to 487 uns. But centuries from Jesse Ryder (103) and debutant Kane Williamson (131) restricted India's lead to just 28 runs. In the second innings, Chris Martin grabbed five wickets to reduce India to 65 for 6 at one stage, before Laxman (91) and Harbhajan Singh (115) put on 163 runs to ensure a safe total.
The second match at Rajiv Gandhi Stadium in Hyderabad was high-scoring one. Tim McIntosh made a patient century (102), while Martin Guptill contributed 85. Harbhajan scored his second consecutive century (111 not out) after he had picked up four wickets in the first innings. But Brendon McCullum's 225 in the second innings meant the match ended in a draw.
Ishant Sharma (4-43) combined well with Pragyan Ojha (3-57) to restrict New Zealand to 193 in the final Test at Jamtha in Nagpur. A marathon 191 from Dravid and 98 from MS Dhoni ensured a first-innings lead of 373 runs for the home side, and then Ishant (3-15) and Harbhajan (3-56) did the damage as India won by an innings and 198 runs, which was enough for them to take the series one-nil.
2012-13 (August-September 2012)
India 2 New Zealand 0
New Zealand came to India in August, normally a month when no first-class cricket is scheduled because of the monsoon. However, the rain stayed away.
The opening Test in Hyderabad saw India reach 438 thanks to Cheteshwar Pujara's 159 and some useful contributions by the lower order. This total was enough, as R Ashwin and Ojha took 18 wickets among them, with the former claiming 12 of them. The hosts won by an innings and 115 runs.
Ross Taylor's 113 in Bangalore took New Zealand to 365 by the second day, as Ojha claimed a five-wicket haul. Despite a century from Virat Kohli (103), India still had to concede a lead of 12 runs, as Tim Southee troubled all the Indian batsmen with a seven-wicket haul. India were set a rather tough target of 261, which was successfully achieved in 64 overs thanks another mature knock from Kohli (51 not out) and the ever reliable Dhoni (48 not out). This five-wicket victory also meant a series whitewash, for the first time in a series between the two sides in India.