359 reasons to celebrate Samit Gohel

Wisden India
29-12-2016
Samit Gohel isn't used to this sort of adulation. He sounds nervous, but is polite to a fault. He has been juggling phone calls and spot interviews all evening. Even as he makes the trip from Jaipur to Ahmedabad, changing flights in between, he has had to deal with his sudden popularity. "My flight will take off in two minutes. Can you please call me after I land?" he asks, cautiously, before another barrage of questions come his way.
It is his first taste of such frenzied attention. Having scored an unbeaten 359 against Odisha in the Ranji Trophy 2016-17 quarterfinal on Tuesday (December 27), he now proudly holds the world record for the highest score by an opener carrying his bat in first-class cricket. He has broken a record set back in 1899 by Bobby Abel for Surrey against Somerset.
Gohel would have seen his Gujarat teammates, captain Parthiv Patel and Jasprit Bumrah, deal with such situations during their international outings. It is now his turn.
Unfortunately, that means speaking to his folks just once during the course of the evening. All the phones in the Gohel household – manned by his parents and his wife – are buzzing, and all his attempts to call home have failed. "I've only been able to speak to my parents once so far. Everyone's phone is engaged, they are all responding to calls about my record," Gohel tells Wisden India, half thrilled, half embarrassed. "They are all very happy, but I'll only know just how much once I meet them. They have probably planned a small party, but I don't know yet."
Gohel is a defensive player. Heading into the quarterfinal, his strike-rate was just 36.01. He had the reputation for being a 'strokeless wonder' during his age-group days, and though he was amongst the runs at that level, he struggled to consistently stitch together big scores once he graduated to first-class cricket. Including his record knock, Gohel has just three centuries in 28 first-class matches.
It didn't help that he struggled to nail down a place in the state side. Having made his debut against Railways in November 2012, Gohel only managed a handful of games in 2014 (4 matches) and 2015 (3). He was been more of regular at the top of the order this season, playing in seven of Gujarat's nine matches. A pre-season pep talk from Vijay Patel, the Gujarat coach, has proved to be the catalyst.
Photos: 'Unique' world records held by Indian cricketers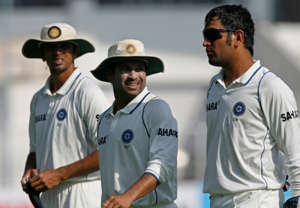 "Before the season, we had a long talk. As far as we know Samit, he's a defensive player," says Vijay, who has been watching the 26-year-old Gohel from the time he's been playing at district-level. "Till Under-23, he was getting a lot of runs. But once he started playing Ranji Trophy, he was in and out of the team. He was very good – we know that – but somehow he wasn't able to convert starts, was not able to get the runs. He was more in a defensive mode. So we talked to him.
"We know that he has all the capabilities. In local and district cricket, we were following him. It was just a matter of changing his mindset. We talked to him about the requirements of modern-day cricket. And now he's playing good, he's staying in the middle longer, and when he gets out, the runs are nearly 20, 30, 40 or 50. We talk to him at the end of play usually, and say where he should have converted the runs. He has also understood, that's the best part, and he has adapted to the changes.
"Today, we've got the result."
For Gohel, who hails from the small town of Anand – known for hosting the headquarters of Amul and for the dairy revolution – it is the 'greatest day' of his life. He is thankful to Priyank Panchal, his opening partner and Gujarat's top-scorer, and Parthiv for their wishes. "They wished me a lot and told me to keep working hard, keep applying, keep it up.
"It was my responsibility to my team to play all day," says Gohel. "All my partners during the knock said the same thing: 'tu khelte rehna, hum tumhe support karenge (you keep playing, we'll support you)'. It was a five-day game, and within two days itself, both first-innings were over. The wicket was a bit wet as well. But I kept my confidence in myself, and just focussed on playing long."
Watch: 10 biggest sixes in cricket history
He admits he has been working on his fitness, but credits the change in fortunes to a shift in mindset – echoing Vijay – and a resultant boost in confidence. "They keep saying that I have a lot of talent, that I can do a lot better than I have done so far," he says. "The technique is fine, it's good technique, but the mindset has to change. It has to be positive, they told me. They told me to take my time and look for runs. Just keep taking singles, and the runs will come. He (Vijay Patel) told me all this before this season, and I started applying this in practice sessions as well. It's a superb concept. I started doing it in T20 matches as well, and it helped my confidence a lot. It's made a lot of difference."
His knock helped Gujarat rack up their highest total in Ranji Trophy history – 641- and seal their progress to the semifinals for the first time since 1950-51. But it wasn't without drama. Midway through the Gujarat first-innings, when they were 71 for 6, the management decided to complain to Daniel Manohar, the match referee, that the pitch was too wet. Manohar agreed, early lunch was taken and the pitch was rolled. Once play resumed, Rush Kalaria and Chirag Gandhi added 154 runs for the seventh wicket, and Gujarat posted 263. Jasprit Bumrah's 5 for 41 then restricted Odisha to 199, and with the Gohel epic following thereafter, victory was sealed on the basis of the innings lead.
There was talk that the rolling of the pitch wasn't within the playing regulations, but Vijay brushed it off, pointing out that the match referee wouldn't have agreed to it had it been the case. "It was the match referee's prerogative," he says. "They could have changed the wicket if they didn't think it was fit to play. If rules were not permitting this, then the match referee and the umpires would not have taken this decision. It's as simple as that."
Gohel will not concern himself with all that, though. He now possesses a world record in a sport he has been playing since he was eight. Soon, the adulation will die down and he will turn his focus to next week's semifinal against Jharkhand. And after the ongoing season, he will look to continue his search for a regular job at a bank.
But before all that, Gohel will try and let it all sink in. Perhaps that long-awaited party with the folks will help.
---
---