5 infamous and ugly fights in Pakistan cricket

India Today
01-06-2017
Pakistan have always been blessed with some exceptionally talented cricketers but there has always been an air of unpredictability surrounding the team.
Over the years, their fortunes have swung between admiration and humiliation. On their day, Pakistan can decimate any opposition in the world and at the same time, they can also commit hara-kiri against a relatively weaker team.
Despite the presence of established superstars and raw talent, Pakistan have failed to get the desired results very often.
However, their failures have been attributed more to a lack of discipline than capability.
Time and again, Pakistan have faced problems in the team due to lack of unity and poor administrative capabilities of the country's cricket board.
No team is free from internal problems but in Pakistan, the problem with team unity is of far greater magnitude. There have been numerous instances that suggest that Pakistan have had a long and troublesome history of internal rivalries and groupism.
Here's a look at some of those spats that shamed Pakistan cricket:

Shahid Afridi-Javed Miandad spat
Veteran all-rounder Afridi and legendary batsman Miandad were part of an ugly spat which even saw underworld don Dawood Ibrahim getting involved.
Afridi's request for a farewell match to mark his retirement didn't go down well with Miandad, who reacted negatively, claiming the all-rounder wanted it for the money. Miandad had also alleged that Afridi was involved in match fixing and had claimed that he was a witness to such activities by the latter.
That prompted Afridi to threaten legal action against Miandad which earned him the ire of underworld don Dawood Ibrahim whose daughter is married to the Miandad's son.
According to various media reports, Dawood had called up Afridi and threatened him with death.
Afridi also told mediapersons that Miandad has always had issues with money and that he has evidence to show that the former captain has been involved in match-fixing. However, following intervention by several former players, the duo decided to bury the hatchet.
When Shoaib Akhtar blamed Wasim Akram for ruining his career
Former Pakistan fast bowler Shoaib Akhtar, in his autobiography, triggered many controversies. The biggest of them was when he accused former capatin and legendary pacer Wasim Akram of destroying his career. Shoaib revealed that Akram was responsible for delaying his debut. He also claimed that Akram was scared of him and was unwilling to take him in his team.
Akram hit back at the accusations, saying Shoaib was a problem when he was an active player and remains just that even in retirement.
Shoaib Akhtar hits Mohammad Asif with a bat
Shoaib has been a controversial figure in Pakistan cricket. While there was never a doubt about his abilities, Shoaib also had numerous problems with many of his teammates.
Just before the 2007 ICC World T20, Shoaib and his fellow fast bowler Mohammad Asif were involved in a dressing room spat which resulted in the latter injuring his leg. Shoaib blamed Shahid Afridi for the spat that led to him hitting Asif with a bat during Pakistan's build-up to the WT20 in South Africa.
Afridi, however, denied that he had provoked Shoaib and was surprised at the accusations.
As a result, Shoaib was thrown out of the squad and he later apologised to Asif after returning to Pakistan.
Ramiz Raja and Mohammad Yusuf's abusive rant on TV
The debate over whether fast bowler Mohammad Amir should be allowed to play for Pakistan created a big divide in Pakistan cricket with former cricketers Mohammad Yousuf and Ramiz Raja engaging in a war of words on the issue during a TV show.
The two waded into each other and used some very personal, coarse and abusive language against each on national television during a show on Geo Super channel.
The offensive exchange of words took place over the issue of Amir with Yousuf claiming Ramiz didn't know cricket, was a "Sifarashi" player and good only to be a teacher.
Yousuf went one step further when he made some personal remarks against the former Test captain-turned-commentator who lost his cool on air.
It drew a sharp response from Ramiz who termed Yousuf, who sports a beard, a "fake Mullah" who tells lies and who caused havoc in Pakistan cricket.
The clips of the exchange soon became the talk of the social media with many former players, fans and critics expressing disappointment over the language used by both former stalwarts.
Wahab Riaz and Ahmed Shehzad's ugly fight in PSL
Star players Wahab Riaz and Ahmed Shehzad pushed each other and exchanged harh words during a Pakistan Super League match between Wuetta Gladiators and Peshawar Zalmi.
Both the players were heavily fined and warned by the cricket board to be watchful of their on-field behaviour.
Photos: 26 most controversial statements by cricketers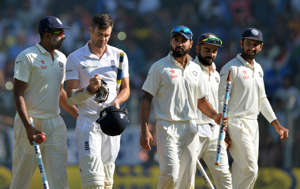 More from India Today

India Today