9 best quotes on Virender Sehwag

India Today
11-08-2017
We were not fortunate to witness Vivian Richards in action but thankfully we got Virender Sehwag in our era. The Delhi dasher attracted lot of eye-balls for his 'fearless' brand of cricket. During the course of his career, many heaped praise on the right-hander. 

Here are some of the best quotes on India's irreplaceable opening batsmen.
Brett Lee
"No matter how good and experienced you are, Virender Sehwag can kill your attitude."
Ramiz Raja
"When Viv Richards retired I thought it was end of entertainment. But then came Virender Sehwag, the King of entertainment."
Sachin Tendulkar
"I have to learn from Virender Sehwag how to play in the nervous 90s."
Shane Warne
"I would always have Virender Sehwag in my team. I want to watch him bat but not bowl to him."
Michael Hussey
"A batsmen like Sehwag is never out of form."
Glenn McGrath
"Sehwag is the most unpredictable batsmen I have seen in my career."
Michael Vaughan
Have to say Sehwag is the best player in the world to watch FEARLESS!
Waqar Younis
"Having scored 298 and still hitting a six is something unimaginable and you need to be a genius for that."
British Journalist Piers Morgan
"I'd swap everything I've done in my miserable little life to bat like Virender Sehwag."
Photos: Virender Sehwag: Rare and unseen images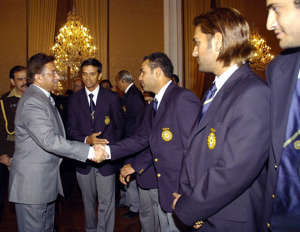 ---
---
Watch: When Sehwag scored a century on Test debut

More from India Today

India Today