A 93-year-old man almost made the U.S. Olympic table tennis team

The Washington Post
07-08-2016
The U.S. table tennis team at the Rio Olympics already boasts the American delegation's youngest player with 16-year-old Kanak Jha, but did you know it also almost boasted the oldest? Meet 93-year-old Bill Guilfoil. The Kansas native, who learned how to first play table tennis in the 1930s, made it to the Olympic table tennis trials but ultimately failed to make the team. 
Meet Bill Guilfoil. From Fairway, Ks. Made it to 2012/2016 @Olympics table tennis trials. Oh yeah, he's 93 years old pic.twitter.com/YRIt1Vo5N9

— Tom Dempsey (@KCTomDempsey) August 5, 2016
Bill Guilfoil continues to impress at 93yo. Made it to 2016 #TableTennis@Olympics trials. Played people 4x younger pic.twitter.com/Ui4amZby7Y

— Tom Dempsey (@KCTomDempsey) August 5, 2016
"I was probably 70 years older than anybody there and I played in the men's singles (tournament)," he told Kansas City's KSHB News. 

Whether Guilfoil will keep trying to fulfill his Olympic dream is unclear, but he'll definitely keep playing the game he loves.
"Longevity comes from exercise, proper food, and many things," he said. "(In table tennis) you move your eyes a lot and it's good for your brain too."
Photos: The oldest Olympic Games competitors ever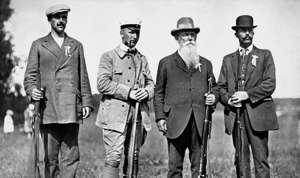 The oldest Olympic Games competitors ever