A liberated Dhoni, whether he likes it or not

Wisden India
21-02-2017
So we've seen the last of MS Dhoni, the captain.

This time, it appears, Dhoni's 'former captain' turn was not by choice. An email we received early evening on Sunday from the office of Sanjiv Goenka, the owner of Rising Pune Supergiant (they have dropped the 's' from the end, it seems) hinted that the call to push Dhoni down the pecking order was taken by the management. No sugarcoating, even if it wasn't quite spelt out: Dhoni was told he wasn't captain any more; he wasn't asked, the matter wasn't discussed. He was supportive of the decision, we have been told.
And, just like that, one of India's greatest captains and players, a man who once strutted around the Indian Premier League like he owned every blade of grass the games were played on, has been demoted.
With Dhoni, things always seem to change just like that.
Just like that, he burst on to the scene back in the first half of 2005. He had gone three not-too-glamorous 50-over games against Bangladesh and one against Pakistan without much to recommend or reject him. And then, on the big stage, he went bang, bang, bang, smash and wallop, to 148 in 123 balls. In Visakhapatnam. Against Pakistan. Virender Sehwag scored his 74 in 40 balls, but when the dust had settled, the long-haired boy from the cricketing boondocks of Ranchi had become the star.
Photos: Top 22 buys at IPL 2017 auctions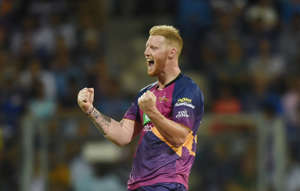 Just like that, in 2007, he was propped up as the captain of the Indian Twenty20 International side. He got Sehwag, Harbhajan Singh and Robin Uthappa, of all people, to bowl in the shootout, and just like that they all hit the stumps. Joginder Sharma got the ball for the last over of the final, and got Misbah-ul-Haq to play one of the worst shots he will ever play.
Just like that – the Indian One-Day International and Test captaincies, all the wins, the 2011 50-over World Cup trophy, sealed with a six, and the Champions Trophy 2013 title …
And then, during the course of a Test series, in Australia (2014-15) of all places, Dhoni relinquished the captaincy and retired from the format. The other day, he was through with limited-overs captaincy as well. All with that enigmatic smile – with Dhoni, you always got what he wanted you to get, nothing more, nothing less.
It was all with an eye on the future, he said. The future of Indian cricket must necessarily be on Virat Kohli's shoulders.
What about this latest spot of news then?
This wasn't his call – that much is clear. Against England XI the other day in a List A game where he was captaining India A, Dhoni said at the toss that he wasn't quite done with the leadership gig – there's the IPL, isn't there, and Jharkhand, maybe, he said with a smile. With Jharkhand, who knows? They idolise him there, and with good reason. He can probably go and become the chief minister of the state, like tomorrow, if he wants to be. But the IPL – nix. As with the Indian ODI and T20I teams, he still has a place in the mix: As a player. What happens if Chennai Super Kings return next year? Who can tell.
---
---
On the evidence of the limited-overs games against England, when Kohli led and Dhoni was really just the wicketkeeper, there was no hiding the fact that he was slipping into captain mode every now and then. That can only help a young captain like Kohli, who didn't seem to mind. Someday, he might. 

On the other hand, Steven Smith will probably not take too kindly to old MS waving his arms about from behind the stumps when Pune are in their stride. There are these paaji and bhaiyya and anna and dada things in India – respect the elders. So Ajinkya Rahane probably does not call Sunil Gavaskar 'Sunny' the way a David Warner will call Greg Chappell 'Greggie'. And Dhoni could well feel like the captain and be like the captain and Kohli will, for as long as he can, bite his tongue and take it. Smith – Smithy – he won't. If he's the captain, he's the captain, and MS, what a legend and all that, can stuff it.
They say Dhoni took the news well and was happy to play along as long as it benefited the team.
Every gambler knows
that the secret to survivin'
is knowin' what to throw away
and knowin' what to keep
Dhoni, defensive captain or not, has gambled a lot, and when he's done his counting afterwards, it's been a rich haul. It's not time for him to leave the table yet, though. There's more to come, and one shouldn't doubt that for a moment.
On form, on fitness, and on ability, no team he is a part of can leave Dhoni out, and why should they? 134. 56. He's batting brilliantly. Watch him go now. There's plenty more where those enormous heaves and pick-up-and-send-into-the-orbits have come from over the years. He's greyed enough – it comes with the territory. Kohli can do the greying now, and so can Smith, for a little while at least.
I'm not a betting man but if I were, I'd put good money on MS – he's got some good jolly lined up for the next few years – not being captain will probably help him bring that out. A Dhoni who is not answerable for the whole team, a man carrying the lesser burden now … a liberated Dhoni. It'll be worth looking out for.