A Monday to forget for Stuart Binny

Wisden India
13-09-2016
In cricket today, whose are the toughest shoes to walk in? David Richardson, the ICC general manager? He's tasked with running the day-to-day affairs of a members' body that masquerades as the world body. All the accountability, none of the power. Or is it Shashank Manohar, the ICC chairman? Same boat, with a bit more power but also being buffeted a bit more by his erstwhile home board.
If the top two jobs in cricket's governing body seem so tough, what of those much lower down the pecking order, who probably have it as tough or more, but without any of the power? The short answer to the question of which person in cricket is treading the most difficult path is that there's no one answer. Narrowing it down to just Indian cricketers, while there must be several in a country where millions of people are invested in the game that are not having it easy, there was something about the thought of walking in Stuart Binny's shoes, particularly on Monday (September 12), that gave pause.
Binny began the morning with the news that he had not been picked for India's home Test series against New Zealand. In the evening, he walked in with the score 67 for 4 in the Duleep Trophy final after the opposition had piled up 693 for 6, and played the best knock in his team's innings but fell for 98, just two runs short of a score that would have surely been a bit of a soothing balm. Once he got back to the pavilion, he would have been greeted by the news of Bangalore, his hometown, being up in flames.
As a cricketer, Binny falls in the even-tempered, phlegmatic category which does not let the slings and arrows of outrageous fortune disturb its composure. That sort of temperament is bound to come in handy on the field. For Binny, it's probably been even more of a blessing off the field. From the time he made his international debut in early 2014, there have been not-very-subtle whispers about favouritism in his selection because Roger Binny, his father, was part of the national panel. It has been repeatedly pointed out by those concerned – and never questioned or denied by anyone – that whenever his son's name would come up for selection, Roger would recuse himself. So Binny was in effect selected by the four other selectors. But if you start a whisper campaign, you can't muck it up by relying on facts.

That perception of favouritism has meant that rightly or wrongly, Binny's name has attracted controversy rather more easily than it should have. In November 2014, when Sri Lanka came for a five-match ODI series after the infamous West Indies pullout, reports suddenly emerged of the Justice Mudgal report into spot-fixing in the IPL having named a few players, Binny among them. The news got a fair amount of play-time, rather more than the subsequent clarification that dispelled the initial reports. The initial reports came between the fourth and fifth ODIs. India had just gone from Kolkata, scene of Rohit Sharma's world-record 264, to Ranchi for the last match, and what I remember about the pre-match practice session in Ranchi a day after the reports surfaced was a smiling Binny, seemingly unperturbed by a development that was disturbing. His team and captain – Virat Kohli led in that series with MS Dhoni absent – must have had faith in him too because Binny played in that fifth ODI.
Slideshow: 25 most controversial cricketers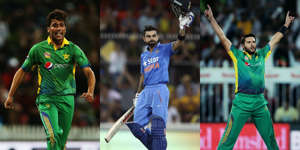 A year later, in November 2015, Roger had to quit his post, but Stuart has been selected in Indian squads since. His latest outing was perhaps his most ignominious, being carted for 32 runs in a solitary over by a rampaging Evin Lewis in a Twenty20 International. Binny Jr isn't the kind to harbour self-defeating illusions about his bowling, and he knows that at the international level, he will not be a strike-bowling option. In an interview in 2013, he had spoken of bowling on flat surfaces with disarming honesty. "When you're bowling on flat wickets especially, it takes a bit of courage to go out and bowl good overs," he had said then. "The areas that I had to bowl in a one-day game, especially with the new rule with five fielders in the circle, it was a tough thing for me. I don't have the pace to trouble someone, so it was important that I had to work on my variation and the length that I bowled."

Even given a calm head, it's difficult to imagine the mind and emotions of an athlete performing at the most elite level of his profession, and coming a cropper in full public view. What was probably even worse to deal with was the fallout on social media. Binny is not on Twitter, but his wife Mayanti Langer is. And she was trolled in the most crass and vicious way. People with the courage to hide behind fake names and anonymous handles freely offering her a bouquet of attractive options such as divorce or suicide. Small minds revealing the extent of the poverty of their own thinking. In a powerful message, Langer showed her class, throwing into even sharper relief the loutishness of those whom her words were addressed to.
On balance, social media has been more of a tool for good than harm I'd venture, but if you are a public figure who – for whatever rhyme or reason – incurs public wrath it can become a traumatic place to be, a public stoning with words. By no yardstick — whether you believed Binny deserved his spot in the team or not, whether he had a bad day on the field or not, whether you were disappointed by defeat or not – was it okay to hurl even a single abuse at the cricketer, leave alone his family.
Which is why, when less than fortnight later a Monday brought more than its fair share of blues with a Test axing, a missed century and a normally peaceful hometown rioting, you couldn't help but feel for the allrounder.
In the 2013 interview referenced earlier, both Binny and Brad Hodge were there, teammates for Rajasthan Royals then. It was an interaction whose primary characteristic was laughter, and when talking of his own career that had just six Tests in Australia's golden era, Hodge was speaking of how it was ultimately all up to selectors before delivering a one-liner that had everyone present laughing. "The selectors choose your fate, you can't pick yourself. This is the hardest thing in cricket. This is why Stuey should beat his dad up."

Binny, of course, couldn't have known then that his first international match was only months away, and once he had stopped giggling, had a more sober take. "I started out when I was ten years old to play for my state and I've not looked back since then. I'm a guy who tends to do well when I'm enjoying my cricket, rather than put pressure on myself and think about selection. As Hodgy said, you try to do the best you can do. It's all in someone else's hands at the end of the day. If you get picked, good, otherwise you still have to do the same job day in and day out."
Maybe in the future, it can be done day in and day out without enduring needless abuse.